Miss Timmins' School for Girls: A Novel (Paperback)
*USPS shipping is taking up to 2-3 weeks instead of 2-7 days, please consider contactless Parking Lot Pickup if you are in the area.
Please Note: Most of the anti-racism books that say 'on our shelves now' are on hold already for customers. We are hoping that they will be back in stock at the warehouse around the middle of June. Thank you for your patience.
Stamped from the Beginning: The Definitive History of Racist Ideas in America (Paperback) is back in stock, limited quantities available.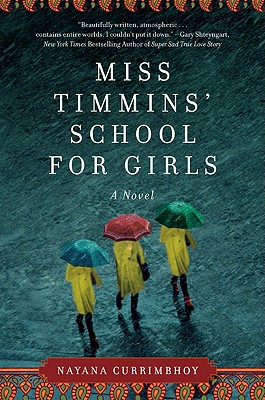 List Price: $14.99
Our Price: $13.49
(Save: $1.50 10%)
Unavailable from Warehouse - May take longer to order
Description
---
"An irresistible novel that hurls forward at breathtaking speed toward an unpredictable climax."
—Thrity Umrigar, bestselling author of The Space Between Us
"Beautifully written, atmospheric…contains entire worlds. I couldn't put it down."
—Gary Shteyngart, bestselling author of Super Sad True Love Story and Absurdistan
Miss Timmins' School for Girls is the truly dazzling debut of a major novelist, Nayana Currimbhoy. Set in India during the monsoon of 1974, it tells the story of a conventional young girl who leaves her cloistered small town home to teach at a remote boarding school run by British Missionaries. Part coming-of-age novel, part suspenseful murder mystery, Miss Timmins' School for Girls is a brilliant evocation of a colorful time and place—India during the love, drug, and rock 'n' roll era—complete with the sights, sounds, and music of the period seamlessly woven into the page-turning tale.

Praise For…
---
"A vivid debut novel."
— National Geographic Traveler

"The intimate portrait the novel offers of India at this specific point in its history is compelling, as is the dramatic relationship between Charu and the deeply troubled Moira."
— Booklist

"Currimbhoy's fiction debut is an absorbing atmospheric thriller. . . . [A] gripping tale."
— Publishers Weekly

"An irresistible novel that hurls forward at breathtaking speed toward an unpredictable climax."
— Thrity Umrigar, bestselling author of The Space Between Us and The Weight of Heaven

"Beautifully written, atmospheric and very funny. Ms. Currimbhoy's debut novel contains entire worlds. I couldn't put it down."
— Gary Shteyngart, bestselling author of Super Sad True Love Story

"Exotic, mysterious, and haunting, MISS TIMMINS' SCHOOL FOR GIRLS kept me up late for some delicious, spooky reading nights. I adored this book."
— Katrina Kittle, author of The Kindness of Strangers and The Blessings of the Animals