A Dangerous Place: A Maisie Dobbs Novel (Hardcover)
We are available Monday to Saturday 10:00 a.m. to 5:00 p.m. for Limited Browsing, Order Pickup, Phone Orders, and Contactless Parking Lot Pickup. Order online 24 hours a day.
**Free Local Area Delivery on Tuesday and Friday**
*USPS shipping is taking up to 2-3 weeks instead of 2-7 days, please consider contactless Parking Lot Pickup if you are in the area.
Please Note: Many of the high demand books that say 'On our Shelves Now' are on hold for other customers. You can place an order and we will let you know when they come back in stock. Thank you for your patience.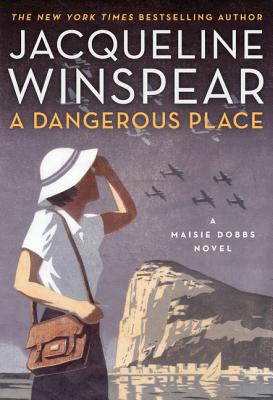 List Price: $26.99
Our Price: $24.29
(Save: $2.70 10%)
Unavailable from Warehouse - May take longer to order
Other Books in Series
This is book number 11 in the Maisie Dobbs series.
Description
---
Four years after she set sail from England, leaving everything she most loved behind, Maisie Dobbs at last returns, only to find herself in a dangerous place . . .  
In Jacqueline Winspear's  powerful story of political intrigue and personal tragedy, a brutal murder in the British garrison town of Gibraltar leads Maisie into a web of lies, deceit, and peril.
Spring 1937. In the four years since she left England, Maisie Dobbs has experienced love, contentment, stability—and the deepest tragedy a woman can endure. Now, all she wants is the peace she believes she might find by returning to India. But her sojourn in the hills of Darjeeling is cut short when her stepmother summons her home to England; her aging father Frankie Dobbs is not getting any younger.
But on a ship bound for England, Maisie realizes she isn't ready to return. Against the wishes of the captain who warns her, "You will be alone in a most dangerous place," she disembarks in Gibraltar. Though she is on her own, Maisie is far from alone: the British garrison town is teeming with refugees fleeing a brutal civil war across the border in Spain.
Yet the danger is very real. Days after Maisie's arrival, a photographer and member of Gibraltar's Sephardic Jewish community, Sebastian Babayoff, is murdered, and Maisie becomes entangled in the case, drawing the attention of the British Secret Service. Under the suspicious eye of a British agent, Maisie is pulled deeper into political intrigue on "the Rock"—arguably Britain's most important strategic territory—and renews an uneasy acquaintance in the process. At a crossroads between her past and her future, Maisie must choose a direction, knowing that England is, for her, an equally dangerous place, but in quite a different way.
About the Author
---
Jacqueline Winspear is the author of the New York Times bestselling Maisie Dobbs series, which includes In This Grave Hour, Journey to Munich, A Dangerous Place, Leaving Everything Most Loved, Elegy for Eddie, and eight other novels. Her standalone novel, The Care and Management of Lies, was also a New York Times bestseller and a Dayton Literary Peace Prize finalist. Originally from the United Kingdom, she now lives in California.
Praise For…
---
"With clarity and economy, Winspear lays the historical groundwork….The setting matters, but what may matter more is the lovely, sometimes poetic way Winspear pushes her heroine forward….May she shine on the literary scene for many books to come."
— USA Today, 3.5 out of 4 stars

"A gripping and moving story, filled with fully realized characters and spare but stylish prose….As always, Maisie—one of the most complex and admirable characters in contemporary fiction—fulfills expectations. And Winspear continues to dazzle as she once again excels in and transcends the genre."
— Richmond Times-Dispatch

"This eleventh entry in the Maisie Dobbs series, with enough backstory to stand alone, shows the same meticulous research that grounds these books so firmly in their time and place, along with moving life changes that further humanize the intrepid protagonist. Another winner from Winspear."
— Booklist, starred review

"The latest installment of Jacqueline Winspear's consistently interesting series….[Maisie's] drawn into a climate of political intrigue that repels her-but keeps the rest of us avidly reading."
— Marilyn Stasio, New York Times Book Review

"Maisie would be interesting enough as a combination psychologist, empath and detective, but Winspear endows her with a rich backstory….With the clouds of war gathering, we can only expect that the British government will have uses for such a clever and effective woman....Interesting times ahead."
— Bobbi Dumas, NPR Books

"A welcome addition to the series….It's an understatement to note that Ms. Winspear, as usual, has made excellent use of her background research."
— Nora Levine, HeadButler.com

"Winspear elegantly weaves historical events with Maisie's own suffering—the bombing of Guernica is particularly well-done—all while constructing an engaging whodunit. Fans of this long-running series will welcome Maisie's return in this 11th installment while feeling the pain of her losses as deeply as if they were their own."
— Kirkus