Georgia Peaches and Other Forbidden Fruit (Paperback)
*USPS shipping is taking up to 2-3 weeks instead of 2-7 days, please consider contactless Parking Lot Pickup if you are in the area.
Please Note: Most of the anti-racism books that say 'on our shelves now' are on hold already for customers. We are hoping that they will be back in stock at the warehouse around the middle of June. Thank you for your patience.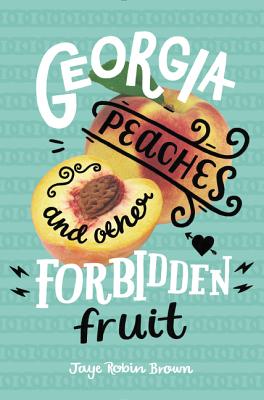 List Price: $10.99
Our Price: $9.89
(Save: $1.10 10%)
Not in bookstore--Can order from warehouse
Description
---
"A sweet, sexy, honest teen romance that just happens to involve two girls—all the more charming for being so very ordinary."*
A Kirkus Best Book of the Year! A Chicago Public Library Best Book of the Year! A Bustle.com Best Young Adult Book of the Year! 3 starred reviews!
Joanna meets the perfect girl for her and must decide whether to break a promise that could change everything for her and her family or lose out on love in this charming young adult romance that's perfect for fans of Julie Murphy's Dumplin' and Becky Albertalli's Simon vs. the Homo Sapiens Agenda.
Joanna Gordon has been out and proud for years, but when her popular radio evangelist father remarries and decides to move all three of them from Atlanta to the more conservative Rome, Georgia, he asks Jo to do the impossible: to lie low for the rest of her senior year. And Jo reluctantly agrees.
Although it is (mostly) much easier for Jo to fit in as a straight girl, things get complicated when she meets Mary Carlson, the oh-so-tempting sister of her new friend at school. But Jo couldn't possibly think of breaking her promise to her dad.
Even if she's starting to fall for the girl. Even if there's a chance Mary Carlson might be interested in her, too. Right?
*Kirkus
About the Author
---
Jaye Robin Brown is the critically acclaimed author of the young adult novels Georgia Peaches and Other Forbidden Fruit and No Place to Fall. She lives in North Carolina with her dog, horses, and wife. You can visit her on Instagram @jayerobinbrown or online at www.jayerobinbrown.com.
Praise For…
---
★ "Funny, thoughtful, compassionate Jo is a delightful narrator. Frank portrayals of swearing, sexual activity, underage drinking, etc., neither titillate nor condemn; they just depict teens being authentic teens. A sweet, sexy, honest teen romance that just happens to involve two girls—all the more charming for being so very ordinary."
— Kirkus Reviews (starred review)

★"Faith matters in this book, but so do family, friends, and being funny. The dialogue is snappy—Joanna is sharp tongued and sometimes bratty—and the characters aren't types. Rather, they're individuals navigating a complicated world, which makes for a rich and satisfying read."
— Publishers Weekly (starred review)

★ "A fast-paced narrative that is powerful, moving, and relatable. Brown expertly describes the complex nuances of faith and sexuality. This plot-driven story is humorous, and the characters are effortlessly likable. For fans of David Levithan and John Green's Will Grayson, Will Grayson."
— School Library Journal (starred review)

"Brown crafts a charming and unexpected hit. Readers will appreciate the compelling characters, the humor, and the romance of the novel. Anyone who enjoys the writing of John Green or Rainbow Rowell will find a sense of familiarity in Brown's writing, and will be left longing for more."
— Teenreads.com

"This story is fun and funny with characters to root for (and against). But it's more than just fun; it's full of heart. I hope this book finds it way into the hands of anyone, teens especially, who wonder how they can bridge the gap between faith and sexuality."
— Afterellen.com

PRAISE FOR NO PLACE TO FALL: "I was completely smitten."
— Robin Constantine, author of The Promise of Amazing

"Hits a chord with the dreamer in all of us."
— Megan Shepherd, author of The Madman's Daughter

"Debut author Brown is off to a wonderful start with authentic characters who speak in true voices. Amber could be the best friend you had in high school—she's absolutely the real deal, and readers will clamor for another well-paced story featuring her and her friends."
— School Library Journal

"Southern charm oozes off the page."
— Kirkus Reviews

"Lyrically written with a deep sense of place and music. There is so much joy within the pages that the sorrow hits hard and emotions rise and fall and rise again like a vocalist running scales."
— ALA Booklist

"Brown makes a small town in North Carolina—where everyone knows everyone, and the outside world comes in via Appalachian Trail hikers—feel real, but the heart of the story is Amber, as she tries to find herself, love, and her voice."
— Publishers Weekly

"The writing shines when Amber describes the feelings that singing awakens in her. One could wish for an accompanying soundtrack."
— Voice of Youth Advocates (VOYA)