We Dream of Space (Hardcover)
We are available Monday to Saturday 10:00 a.m. to 5:00 p.m. for Limited Browsing, Order Pickup, Phone Orders, and Contactless Parking Lot Pickup. Order online 24 hours a day.
**Free Local Area Delivery on Tuesday and Friday**
*USPS shipping is taking up to 2-3 weeks instead of 2-7 days, please consider contactless Parking Lot Pickup if you are in the area.
Please Note: Many of the high demand books that say 'On our Shelves Now' are on hold for other customers. We are hoping that they will be back in stock at the warehouse around the middle of June. Thank you for your patience.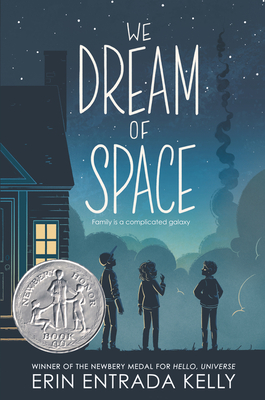 List Price: $16.99
Our Price: $15.29
(Save: $1.70 10%)
Description
---
Newbery Medalist and New York Times–bestselling author Erin Entrada Kelly transports readers to 1986 and introduces them to the unforgettable Cash, Fitch, and Bird Thomas in this pitch-perfect middle grade novel about family, friendship, science, and exploration. A great choice for readers of Kate DiCamillo, Rita Williams-Garcia, and Rebecca Stead.
Great for summer reading or anytime! A Today show pick for "25 children's books your kids and teens won't be able to put down this summer!"
Cash, Fitch, and Bird Thomas are three siblings in seventh grade together in Park, Delaware. In 1986, as the country waits expectantly for the launch of the Space Shuttle Challenger, they each struggle with their own personal anxieties.
Cash, who loves basketball but has a newly broken wrist, is in danger of failing seventh grade for the second time. Fitch spends every afternoon playing Major Havoc at the arcade on Main and wrestles with an explosive temper that he doesn't understand. And Bird, his twelve-year-old twin, dreams of being NASA's first female shuttle commander, but feels like she's disappearing. 
The Thomas children exist in their own orbits, circling a tense and unpredictable household, with little in common except an enthusiastic science teacher named Ms. Salonga. As the launch of the Challenger approaches, Ms. Salonga gives her students a project—they are separated into spacecraft crews and must create and complete a mission. When the fated day finally arrives, it changes all of their lives and brings them together in unexpected ways.
Told in three alternating points of view, We Dream of Space is an unforgettable and thematically rich novel for middle grade readers.
We Dream of Space is illustrated throughout by the author.
About the Author
---
New York Times–bestselling author Erin Entrada Kelly was awarded the Newbery Medal for Hello, Universe.  Her debut novel, Blackbird Fly, was a Kirkus Best Book, a School Library Journal Best Book, an ALSC Notable Book, and an Asian/Pacific American Literature Honor Book. She is also the author of The Land of Forgotten Girls, winner of the Asian/Pacific American Award for Literature, and You Go First, a New York Times bestseller, Spring 2018 Indie Next Pick, Kirkus Reviews Best Book, and School Library Journal Best Book. She grew up in Lake Charles, Louisiana, and now lives in Delaware. www.erinentradakelly.com
Praise For…
---
"Newbery Medal–winning Kelly contemplates space exploration and sibling bonds in her latest captivating novel. . . . Another wondrous title from a remarkably talented author."
— Booklist (starred review)

"Newbery Award–winner Kelly follows three Delaware siblings in the weeks leading up to the January 1986 launch of the Challenger. . . . Kelly shows the incredible power of words—the irreparable damage they inflict and their ability to uplift—while crafting a captivating story about family's enduring bonds."
— Publishers Weekly (starred review)

"Entrada Kelly tells the story . . . of Cash, Fitch and Bird . . . [and their] power to form the family they want themselves. Lyrical but direct writing, relatable characters, and an engaging 1980s setting give this thoughtful read high appeal for middle grade readers."
— School Library Journal (starred review)

"With short chapters focusing alternately on each sibling, Kelly establishes distinct and original characters . . . Kelly creates a crisp, moving portrait of family dysfunction and the resilience of the young."  
— Horn Book (starred review)

"It's January, 1986, and each of the three Nelson Thomas siblings has a focus. . . , Bird, who loves science and engineering and imagines nightly conversations with Challenger astronaut Judith Resnik . . . [is] the calm core of the novel, but readers in the know will feel the tension ramping up as the much-awaited launch date comes closer. . . . Newbery winner Kelly is particularly skillful in weaving the event into the lives of her characters . . . Perceptive."
— Bulletin of the Center for Children's Books (starred review)

"We Dream of Space offers an exceptional portrayal of the endless ways in which parental dysfunction affects every member of a family. It's also a celebration of the need for optimism, compassion and teamwork in the face of disasters both individual and communal."
— BookPage.com (starred review)

"Kelly writes a heartfelt story of family and the bond of siblings. . . . Put this book in your orbit."
— Kirkus Reviews