The Cabin at the End of the World: A Novel (Mass Market)
We are available Monday to Saturday 10:00 a.m. to 5:00 p.m. for Limited Browsing, Order Pickup, Phone Orders, and Contactless Parking Lot Pickup. Order online 24 hours a day.
**Free Local Area Delivery on Tuesday and Friday**
*USPS shipping is taking up to 2-3 weeks instead of 2-7 days, please consider contactless Parking Lot Pickup if you are in the area.
Please Note: Many of the high demand books that say 'On our Shelves Now' are on hold for other customers. You can place an order and we will let you know when they come back in stock. Thank you for your patience.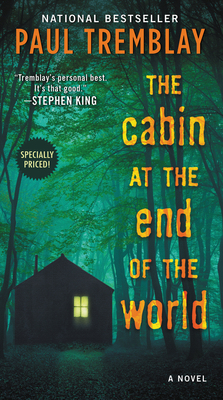 List Price: $7.99
Our Price: $7.19
(Save: $0.80 10%)
Sold Out--Can order from warehouse
Staff Reviews
---
"A little girl and her 2 fathers are staying at a cabin in the middle of nowhere, off the beaten track, minding their own business, when they are approached by 4 strangers with an awful choice they force on this family. What ensues is a journey you have to read to believe, but along the way, you're challenged as to who to believe and what to believe is really happening. Thankfully, author Tremblay doesn't make you wait long. What I can tell you is that whatever you thought about this book – you probably aren't even close. I know I wasn't. I was NOT expecting to cry, I was NOT expecting to be so engrossed that I would read the entire novel in one sitting. The journey these characters go through is raw and it's hard to read. It's not for the faint of heart, but it's not overly graphic, either. Many times during the course of reading this novel did I look up and think, "What in the actual hell am I reading?" If you're looking for a perplexing read that you'll race through to figure out, this is the novel for you."
July 2018 Indie Next List
---
"Wen and her dads are taking a break from everything by visiting a remote cabin for vacation. Wen is studying grasshoppers in their yard when a man comes up and warns her that she and her dads are going to have to make a decision. And that's about all I can tell you without spoiling the story. This book was so creepy, in a very good way. I'd classify this as horror, but very realistic."
— Jennifer Jones, Bookmiser, Roswell, GA
Description
---
NATIONAL BESTSELLER!
BEST BOOK OF 2018 (Library Journal, NPR, Buzzfeed)
JULY 2018 INDIE NEXT PICK!
SUMMER 2018 PUBLISHERS WEEKLY PICK!
"A tremendous book―thought-provoking and terrifying, with tension that winds up like a chain. The Cabin at the End of the World is Tremblay's personal best. It's that good."  — Stephen King
"A clinic in suspense, a story that opens with high-wire tension and never lets up from there."  — Michael Koryta
"I tore through it in record time. I just couldn't wait to see where Tremblay was going to take me next."  — Victor LaValle
The Bram Stoker Award-winning author of A Head Full of Ghosts adds an inventive twist to the home invasion horror story in a heart-palpitating novel of psychological suspense that recalls Stephen King's Misery, Ruth Ware's In a Dark, Dark Wood, and Jack Ketchum's cult hit The Girl Next Door.
Seven-year-old Wen and her parents, Eric and Andrew, are vacationing at a remote cabin in northern New Hampshire. Far removed from the bustle of city life, they are cut off from the urgent hum of cell phones and the internet. Their closest neighbors are more than two miles away in either direction.
On a summer day, as Wen catches grasshoppers in the front yard, a stranger unexpectedly appears. Leonard is the largest man Wen has ever seen, but he is friendly, with a warm smile that wins her over almost instantly. Leonard and Wen continue to talk and play, until three more strangers, two women and a man, all dressed like Leonard in jeans and button-down shirts, come down the road carrying strange, menacing objects.
In a panic, Wen tells Leonard that she must go back inside the cabin. But before she goes, her new friend tells her, "None of what's going to happen is your fault. You haven't done anything wrong, but the three of you will have to make some tough decisions. I wish with all my broken heart you didn't have to." As Wen sprints away to warn her parents, Leonard calls out, "Your dads won't want to let us in, Wen. But they have to. We need your help to save the world."
"[A] tripwire-taut horror thriller."
   —Publishers Weekly (starred review)
"The Cabin at the End of the World...will shape your nightmares for months…there's a very, very good chance you'll never get it out of your head again."
   —NPR
About the Author
---
Paul Tremblay has won the Bram Stoker, British Fantasy, and Massachusetts Book awards and is the author of Growing Things, The Cabin at the End of the World, Disappearance at Devil's Rock, A Head Full of Ghosts, and the crime novels The Little Sleep and No Sleep Till Wonderland. His essays and short fiction have appeared in the Los Angeles Times, Entertainment Weekly online, and numerous year's-best anthologies. He has a master's degree in mathematics and lives outside Boston with his family.
Praise For…
---
"The Cabin at the End of the World is a thriller that grapples with the timely and the timeless. I tore through it in record time. I just couldn't wait to see where Tremblay was going to take me next."
— Victor LaValle, author of The Changeling

"You might not sleep for a week. Longer. [The Cabin at the End of the World] will shape your nightmares for months – that's pretty much guaranteed. That's what it's built for. And there's a very, very good chance you'll never get it out of your head again."
— NPR

"The apocalypse begins with a home invasion in this tripwire-taut horror thriller. . . .[Tremblay's] profoundly unsettling novel invites readers to ask themselves whether, when faced with the unbelievable, they would do the unthinkable to prevent it."
— Publishers Weekly (starred review)

"A tremendous book ― thought-provoking and terrifying, with tension that winds up like a chain. The Cabin at the End of the World is Tremblay's personal best. It's that good."
— Stephen King

"The Cabin at the End of the World is a clinic in suspense, a story that opens with high-wire tension and never lets up from there. The blend of human horror and human heart is superb. Paul Tremblay is rapidly becoming one of my favorite suspense writers."
— Michael Koryta, New York Times bestselling author of How It Happened 

"A blinding tale of survival and sacrifice that matches the power of belief with man's potential for unbridled violence."
— Kirkus Reviews

"Think The Desperate Hours meets 10 Cloverfield Lane, but way, way stranger.  With The Cabin at the End of the World, Paul Tremblay gives us a gloriously claustrophobic and gory tale of faith and paranoia.  Signs and wonders and homemade battle-axes, oh my!"
— Stewart O'Nan, author of The Speed Queen and A Prayer for the Dying

"[A novel] about the clash of rational and irrational, hatred and violence, prophecies and religion gone mad, and perhaps hope. The Cabin at the End of the World is a terrific, disturbing, desperate novel, one that profoundly reflects the current political climate of North America and our ambiguous times."
— Mariana Enriquez, author of Things We Lost in the Fire

"Tremblay once again demonstrates his talent for terrifying readers. Offering a terrible situation with no good outcome, this is the author at his best. Highly recommended for Tremblay's fans and those who relish end-of-the-world scenarios."
— Library Journal (starred review)

"Paul Tremblay is the real deal! The Cabin at the End of the World is a heart-pounding, edge of your seat thriller that will leave you with one simple question: what would you do?"
— J.D. Barker, internationally bestselling author of Forsaken and The Fourth Monkey

"Tremblay captures the intense emotional struggle. . . of Wen, Andrew, and Eric, while dread and terror permeate every sentence. This is a novel with the heart and tone of The Road, by Cormac McCarthy, but will also appeal to fans of Ruth Ware, Josh Malerman, and Joe Hill."
— Booklist (starred review)

"Paul Tremblay loads emotion and tension into every paragraph on every page of The Cabin at the End of the World. It is a dream come true, a heartfelt, emotionally charged journey into our worst nightmares.
— Caroline Kepnes, author of You and Providence

"Tremblay skilfully keeps his readers guessing about the reality of Leonard's ominous warning as he lets his horrifying scenario play out."
— The Guardian

"Under Tremblay's skilled hand, the narrative turns from dark and intense to cerebral, a tour de force of psychological and religious horror. To twist the old adage, it asks, why do people do bad things to good people?"
— barnesandnoble.com

"Equal parts gripping, horrifying, and mesmerizing. . . . The Cabin at the End of the World succeeds in part because it trades in frights rooted (or not) in totally unprovable motivation."
— GQ

"One of the summer's best. . . . an impossibly tense and meticulous thriller with a distinct uncanny edge. . . . Tremblay has a real winner here."
— Tor.com

"Truly suspenseful."
— AARP Magazine

Praise for Paul Tremblay:
"Tremblay uses concise prose and smooth storytelling to evoke raw emotion in this tale of love, loss, and terror. . . . This stunning and tantalizing work of suggestive horror is sure to please admirers of Stephen King and Peter Straub."
— Publishers Weekly (starred review) on Disappearance at Devil's Rock

"Disappearance at Devil's Rock is a true and powerful mystery novel, full of twists and horrors that will keep even the most jaded genre reader silently turning its pages late into the night."
— New York Journal of Books on Disappearance at Devil's Rock

"Another superb novel from one of the genre's most exciting authors."
— SciFi Now

"Full of steadily increasing dread, and no one escapes unharmed — no one, not even readers, who will think about the story long after they finish it."
— Oklahoma City Oklahoman