Sorry for Your Trouble: Stories (Hardcover)
*USPS shipping is taking up to 2-3 weeks instead of 2-7 days, please consider contactless Parking Lot Pickup if you are in the area.
Please Note: Most of the anti-racism books that say 'on our shelves now' are on hold already for customers. We are hoping that they will be back in stock at the warehouse around the middle of June. Thank you for your patience.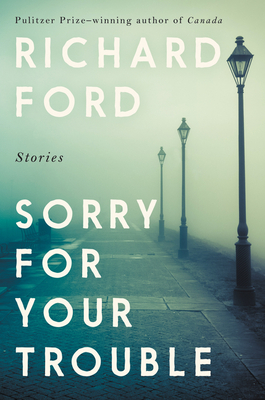 List Price: $27.99
Our Price: $25.19
(Save: $2.80 10%)
Description
---
A landmark new collection of stories from Richard Ford that showcases his brilliance, sensitivity, and trademark wit and candor

In Sorry for Your Trouble, Pulitzer Prize winner and New York Times-bestselling author Richard Ford enacts a stunning meditation on memory, love and loss.
"Displaced" returns us to a young man's Mississippi adolescence, and to a shocking encounter with a young Irish immigrant who recklessly tries to solace the narrator's sorrow after his father's death.  "Driving Up" follows an American woman's late-in-life journey to Canada to bid good-bye to a lost love now facing the end of this life.  "The Run of Yourself," a novella, sees a New Orleans lawyer navigating the difficulties of living beyond his Irish wife's death.  And "Nothing to Declare" follows a man and a woman's chance re-meeting in the New Orleans French Quarter, after twenty years, and their discovery of what's left of love for them.
Typically rich with Ford's emotional lucidity and lyrical precision, Sorry for Your Trouble is a memorable collection from one of our greatest writers.
About the Author
---
Richard Ford is the author of The Sportswriter and Independence Day. He is winner of the Prix Femina in France, the 2019 Library of Congress Prize for American Fiction, and the Princess of Asturias Award in Spain.  He is also the author of the New York Times bestseller Canada.  His story collections include the bestseller Let Me Be Frank with You, Rock Springs, and A Multitude of Sins.  He lives in Boothbay, Maine, with his wife, Kristina Ford.
Praise For…
---
A collection of stories about lives shattered by divorce or death, with protagonists discovering that the pieces they are trying to put together no longer fit, and perhaps never did..... Powerfully unsettling stories in which men nearing the end of their lives wonder, befuddled, if that's all there is."
— Kirkus Reviews

"Once again, virtuoso Ford deftly sails the seas and storms of consciousness."
— Booklist (starred review)

"...both a coherent work of art and a subtle and convincing portrait of contemporary American life among the moneyed middle class...This is America, and Richard Ford is its chronicler. In these superbly wrought tales he catches, with exquisite precision, what Emerson in his scholarly address failed to mention, the irresistible melancholy that is the mark of American life."
— Wall Street Journal

"Richard Ford remains an author hostage to the mysterious simplicities of emotional sentiment, commendably so."
— Atlanta Journal-Constitution

"Ford has a gift for nimble interior monologues and a superb ear for the varieties and vagaries of human speech. His prose can strike a Hemingwayesque cadence…One page later, a sparkling note of Fitzgerald…Ford is of the last generation of writers to have grown up directly under the Papa-and-Scott dispensation, and it's gratifying to hear his sentences pay homage…Acutely described settings, pitch-perfect dialogue, inner lives vividly evoked, complex protagonists brought toward difficult recognitions: There's a kind of narrative, often dismissed as the "well-crafted, writing-class story," that deals in muted epiphanies and trains its gaze inward, to pangs and misgivings." 
— New York Times Book Review