Stranger Planet (Strange Planet Series) (Hardcover)
We will be closed on Saturday, July 4th in observance of Independence Day.
We are available Monday to Saturday 10:00 a.m. to 4:00 p.m. for Limited Browsing, Order Pickup, Phone Orders, and Contactless Parking Lot Pickup. Order online 24 hours a day.
**Free Local Area Delivery on Tuesday and Friday**
*USPS shipping is taking up to 2-3 weeks instead of 2-7 days, please consider contactless Parking Lot Pickup if you are in the area.
Please Note: Many of the high demand books that say 'On our Shelves Now' are on hold for other customers. We are hoping that they will be back in stock at the warehouse around the middle of June. Thank you for your patience.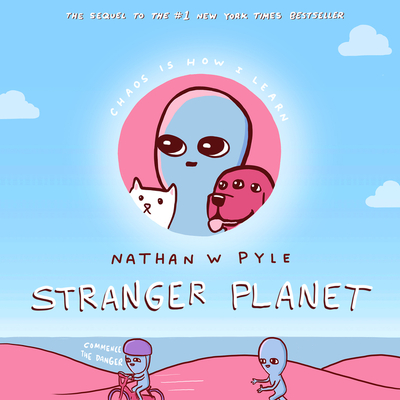 List Price: $15.99
Our Price: $14.39
(Save: $1.60 10%)
Description
---
The sequel to the #1 New York Times bestselling phenomenon Strange Planet, featuring more hilarious and poignant adventures from the fascinating inhabitants of Nathan W. Pyle's colorful world.
In this eagerly awaited sequel, Nathan takes us back to his charming and instantly recognizable planet colored in bright pinks, blues, greens, and purples, providing more escapades, jokes, and p h r a s e s.
Nathan mixes his most popular Instagram comics with more than thirty original works created exclusively for this second volume to explore four major topics: traditions, nature, emotions, and knowledge. He inducts new and longtime fans into a strangely familiar world and its culture, from "cohesion" (marriage) to "mild poison" (alcohol) to the full lyrics to "The Small Eight-Legged Creature" (sung to the tune of The Itsy-Bitsy Spider).
Bright, colorful, and whimsical—yet charmingly familiar—Stranger Planet is out-of-this-world fun.
About the Author
---
Nathan W. Pyle is the #1 New York Times bestselling author of Strange Planet, Stranger Planet, NYC Basic Tips and Etiquette, and 99 Stories I Could Tell. He is a former staff writer and illustrator for BuzzFeed. He is based in New York City but travels the country speaking about creativity and storytelling.