Skippyjon Jones (Paperback)
We strongly encourage all customers to wear a mask regardless of vaccination status. Masks are required for unvaccinated adults. Thank you!
Monday to Thursday 10AM to 7PM--Friday & Saturday 10AM to 8PM
--Open 11AM to 5PM on Sunday **Order online any time.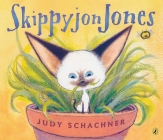 $8.99

Sold Out--Can order from warehouse
Description
---
Holy guacamole! Meet the #1 New York Times bestselling Skippyjon Jones!

Skippyjon Jones is no ordinary kitten. Oh, no. . . .He's actually El Skippito, a great sword-fighter ready to battle banditos the world over! With a little imagination and a whole lot of fun, this frisky cat dons a mask and cape and takes on a bad bumble-beeto to save the day. And along the way, he'll be sure to steal young reader's hearts, yes indeed-o!

My name is Skippito Friskito. 
I fear not a single bandito. 
My manners are mellow, 
I'm sweet like the Jell-O, 
I get the job done, yes indeed-o. 


*"Both feline hero and story are full of beans (more Mexican-jumping than pinto) but ay caramba, mucho fun."—Kirkus Reviews, starred review

"Buoyant and colorful cartoon illustrations match the exuberant text perfectly."—School Library Journal
About the Author
---
Judith Byron Schachner (www.judithbyronschachner.com) has been illustrating and writing children's books since 1992 and has given numerous presentations in schools and libraries. Her workshops are designed to be warm and personal with a special regard for the less than stellar student. In 1995, Judith wrote and illustrated her first picture book, Willy and May, and has turned out a number of projects since then.
Praise For…
---
*"Both feline hero and story are full of beans (more Mexican-jumping than pinto) but ay caramba, mucho fun."—Kirkus Reviews, starred review

"Buoyant and colorful cartoon illustrations match the exuberant text perfectly."—School Library Journal

"The illustrations are as humorous as the story and kids will enjoy them."—Children's Literature