The Mysterious Disappearance of Leon (I Mean Noel) (Paperback)
We are available Monday to Saturday 10:00 a.m. to 5:00 p.m. for Limited Browsing, Order Pickup, Phone Orders, and Contactless Parking Lot Pickup. Order online 24 hours a day.
**Free Local Area Delivery on Tuesday and Friday**
*USPS shipping is taking up to 2-3 weeks instead of 2-7 days, please consider contactless Parking Lot Pickup if you are in the area.
Please Note: Many of the high demand books that say 'On our Shelves Now' are on hold for other customers. We are hoping that they will be back in stock at the warehouse around the middle of June. Thank you for your patience.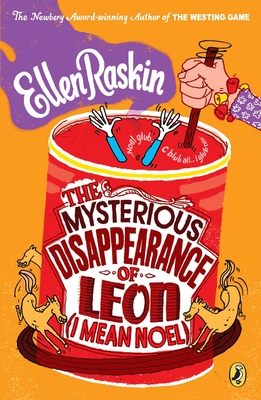 List Price: $6.99
Our Price: $6.29
(Save: $0.70 10%)
Sold Out--Can order from warehouse
Staff Reviews
---
One of Matt's 5 Favorite Children's Books
— From
Matt Recommends
Description
---
From the Newbery Award-winning author of THE WESTING GAME, more clever riddles and wordplay, clues to be found, and mysteries to be solved!

Glub! Blub!
Mrs. Caroline "Little Dumpling" Carillon isn't quite sure what to expect when she sets off to meet her husband, Leon.  After all, she hasn't seen him since their wedding when she was five and he was seven. But their reunion is cut short when a storm knocks him off their boat, and he disappears completely, leaving only one very waterlogged clue (Glub! Blub!). Will Dumpling be able to find Leon (or is it Noel) again? And just what is a glub blub?
About the Author
---
Ellen Raskin was born in Milwaukee, Wisconsin, and grew up during the Great Depression. She was the author of several novels, including the Newbery Medal-winning The Westing Game, the Newbery Honor-winning Figgs & Phantoms, The Tattooed Potato and other clues, and The Mysterious Disappearance of Leon (I Mean Noel). She also wrote and illustrated many picture books and was an accomplished graphic artist. She designed dust jackets for dozens of books, including the first edition of Madeleine L'Engle's classic A Wrinkle in Time. Ms. Raskin died at the age of fifty-six on August 8, 1984, in New York City.