Dirt: Adventures in Lyon as a Chef in Training, Father, and Sleuth Looking for the Secret of French Cooking (Hardcover)
*USPS shipping is taking up to 2-3 weeks instead of 2-7 days, please consider contactless Parking Lot Pickup if you are in the area.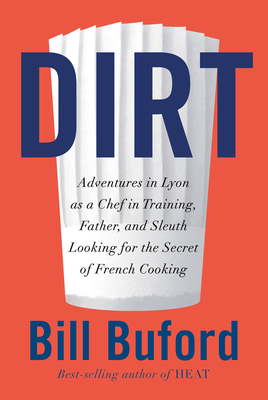 List Price: $28.95
Our Price: $26.06
(Save: $2.90 10%)
Description
---
A hilariously self-deprecating, highly obsessive account of the author's adventures, in the world of French haute cuisine, for anyone whose ever found joy in cooking and eating food with their family--from the author of the best-selling, widely acclaimed Heat.

A New York Times Book Review Editors' Choice

Bill Buford turns his inimitable attention from Italian cuisine to the food of France. Baffled by the language, but convinced that he can master the art of French cooking--or at least get to the bottom of why it is so revered-- he begins what becomes a five-year odyssey by shadowing the esteemed French chef Michel Richard, in Washington, D.C. But when Buford (quickly) realizes that a stage in France is necessary, he goes--this time with his wife and three-year-old twin sons in tow--to Lyon, the gastronomic capital of France. Studying at L'Institut Bocuse, cooking at the storied, Michelin-starred La Mère Brazier, enduring the endless hours and exacting rigeur of the kitchen, Buford becomes a man obsessed--with proving himself on the line, proving that he is worthy of the gastronomic secrets he's learning, proving that French cooking actually derives from (mon dieu!) the Italian. With his signature humor, sense of adventure, and masterly ability to immerse himself--and us--in his surroundings, Bill Buford has written what is sure to be the food-lover's book of the year.
About the Author
---
BILL BUFORD has been a writer and editor for The New Yorker since 1995. Before that he was the editor of Granta magazine for sixteen years and, in 1989, became the publisher of Granta Books. He is also the author of Among the Thugs (Norton, 1992). He was born in Baton Rouge, Louisiana, grew up in California, and was educated at UC Berkeley and Kings College, Cambridge, where he was awarded a Marshall Scholarship for his work on Shakespeare's plays and sonnets. He lives in New York City with his wife, Jessica Green, and their two sons.
Praise For…
---
"This book may well be an even greater pleasure than its predecessor. Moving himself, his wife and their two young boys to Lyon, Buford sets out, with characteristically self-deprecating humor, not merely to learn the techniques of French cuisine, but to understand its essence . . . Most enjoyable are the apprenticeships in which he sets out to master the five mother sauces, bake the perfect baguette and construct the same misleadingly named 'duck pie' . . . Delightful, highly idiosyncratic." —Lisa Abend, The New York Times Book Review

"I heartily recommend Bill Buford's Dirt . . . blazingly entertaining . . . Buford again proves himself to be a relentless reporter and a self-deprecating guide . . . As his title suggests, it's not just the fanatical dedication and meticulously exacting prep. This deliciously salty chronicle, loamy with culinary history and profiles of the great chefs, is worth digging into." —Heller McAlpin, NPR

"A welcome reminder of simpler times . . . Buford's writing is filled with humor and heart . . . He unveils the importance of understanding a city in order to better prepare its dishes . . .[and] underlines a deeply resonant tenet of life: the value of community." —Annabel Gutterman, TIME

"As with good cookery, no shortcuts are taken in Dirt. When Buford picks up a subject — be it bread or language or culinary history or Italian versus French food or the nature of Lyon — that subject is simmered until every tendon has softened. This is a big book that, like an army, moves entire divisions independent of one another. Watching Buford choose a topic for scrutiny is like watching an enormous bodybuilder single out one muscle, on the mountain range of his or her arms, for a laser-focused burn . . . He has a smart, literate, sly voice on the page . . . There is an excellent history of cooking in Lyon, with Fernand Point and Paul Bocuse at its molten center . . . I admire this book enormously; it's a profound and intuitive work of immersive journalism." —Dwight Garner, The New York Times
 
"You can almost taste the food in Bill Buford's Dirt, an engrossing, beautifully written memoir about his life as a cook in France . . . Buford brings a novelistic approach to his story; he is both observer and participant. He's an entertaining, often comical, raconteur . . . His descriptions of his new city are vivid and evocative . . . humorously self-deprecating . . . Buford has another goal besides training in a French kitchen: to investigate the history and origins of that country's cooking and its links to Italian cuisine." —Moira Hodgson, The Wall Street Journal

"At a moment when the thought of food is always percolating, [Dirt] actually presents an opportunity to examine what it means, exactly, to be an eater . . .  There are the usual comic abasements. They spring from Lyon itself, a rough-and-tumble town where fights and vandalism and drunken delinquency appear to be common . . . The juxtaposition between this nasty, brutish world and the civilizational peak that cuisine represents is part of a broader tension—between the rough and the refined, the rustic and the haute—that lies at the heart of cooking, and particularly French cooking. Buford shows us both . . . [He] has extended the old adage, You are what you eat, to something broader, encompassing history, culture, the world: We are what we eat. That notion has never rung truer." —Ryu Spaeth, The New Republic

"[Buford] delves into the controversial origins of French cuisine and restaurants, drawing unflinching portraits of past and present luminaries like culinary school founder Paul Bocuse himself. He pursues origins of dishes, sauces, and their ingredients, even participating in the stark grittiness of butchering a pig and learning that in France the best, most coveted flavors come from the earthiest animal organs. An inside look into haute cuisine." —Mark Knoblauch, Booklist (Starred)

"Pure pleasure. Masterfully written. If you care at all about food, about writing, about obsessive people with a sense of adventure, you have to read this book. It is, in a word, wonderful." —Ruth Reichl, former editor of Gourmet and author of Save Me the Plums

"If you gobbled up Buford's 2006 book Heat like a bowl of fabulous pasta, you'll lap up this new volume like a vat of vichyssoise." —Bethanne Patrick, The Washington Post

"Buford delivers a vivid and often laugh-out-loud account of the tribulations, humblings, and triumphs he and his family endured in the five years they lived in France . . . . [He] is a delightful narrator, and his stories of attending a pig slaughter, befriending the owner of a local bakery, and becoming gradually accepted by the locals are by turns funny, intimate, insightful, and occasionally heartbreaking. It's a remarkable book, and even readers who don't know a sabayon from a Sabatier will find it endlessly rewarding." —Publishers Weekly (Starred Review)

"An ebullient, entertaining memoir of life in Lyon . . . [Buford] describes in mouthwatering detail the many dishes he cooked and ate and the charming restaurants the family visited. A lively, passionate homage to fine food." —Kirkus Reviews

"A funny, irreverent and obsessive account of his five-year odyssey to discover everything about French food . . . This book doesn't offer any recipes, per se, but if perused closely, readers can find instructions for assembling perhaps the grandest concoction of them all: a life well and fully lived, seasoned with curiosity, perseverance and humor—and a dash of adventure." —Alison Hood, BookPage

"There's plenty for food lovers here, but the book is also a satisfying and envy-inspiring travelogue." —Joumana Khatib, The New York Times ("11 Books to Watch For in May")

"An antidote to confining apartment walls and the daily tedium of my own pedestrian meals . . . [Buford] is knowledgeable, quick and funny—and Dirt is a work of cultural, historical and gastronomical depth that reads like an action memoir . . . He truly took me to the heart of French cuisine." —Eleanor Beardsley, NPR

"Delightful escapism . . . Culinary adventures ensue." —Mackenzie Dawson, The New York Post ("The Best Books of the Week")

"Arriving right on time to offer us a delicious fantasy trip." —Colette Bancroft, The Tampa Bay Times 

"Dirt has the unsurprising effect of making you hungry." —Drew Hart, The Arts Fuse

"A hilarious and humbling journey into the intimidating world of haute French cuisine . . .  Reveals the ugly truth about the vituperative culture of apprenticeship in the French kitchen, complete with pervasive bullying, humiliation and acts of physical and emotional abuse . . . Frequently funny and always candid." —Frank Brasile, Shelf Awareness for Readers

"Bill's ability to fully immerse himself in a foreign place, seemingly at the drop of a dime, is always a sight to behold. With Dirt, Bill dives deep into the unforgiving kitchen culture of Lyon and expresses what it's truly like to be a cook in this legendary food city." —Marcus Samuelsson

"As a young cook, I dreamed of one day working in the formidable French kitchens depicted in Dirt, but I never got the chance. Now, after reading this unprecedented inside account from one of the greatest writers of his generation, I'm convinced I actually did. Bill's latest is required reading for anyone with a love of history, good eating, and masterful storytelling." —David Chang, restauranteur, broadcaster, and author 

"There's plenty for food lovers here, but the book is also a satisfying and envy-inspiring travelogue."—Joumana Khatib, The New York Times

"Bill Buford is an enthusiast of the highest order. His deep dive into Lyonnais cuisine is a detective story, a love story, and an act of bare-knuckled reverence. It's earthy, brainy and delicious." —Pamela Druckerman, author of Bringing Up Bébé: One American Mother Discovers the Wisdom of French Parenting

"This well and vividly written paean to Lyonnaise cuisine is insightful, incisive, and informative. From the amazing creativity of Michel Richard to the strict discipline of the Institut Bocuse, from the brutal hierarchy of La Mére Brazier to the making of bread in Lyon and Savoy, Bill Buford weaves a tale as smooth as a pike quenelle and as rich as a Bresse chicken in cream sauce. Alternatively buoyant, humorous and thoughtful, Dirt is a very enjoyable feast." —Jacques Pépin, chef, author, teacher, and co-host of "Julia and Jacques at Home"

"A thrilling tale of adventure, family, and great cooking inside some of the world's most influential and iconic kitchens, from the Institut Paul Bocuse to La Mère Brazier." —Eric Ripert, Chef & Co-owner Le Bernardin , and author of 32 Yolks
 
 "Bill Buford's Dirt—his memoir of an apprenticeship in the unforgiving temples of French cuisine in Lyon—is a chomping, romping, savoury tour de force: by turns hilarious (often at his own expense); and seriously thought provoking about our relationship with cooking and appetite. Rabelais would have loved it. You finish it stuffed and groggy with happy illumination but as with every great feast, wanting even more!" —Simon Schama, historian and author of nineteen books, including Rough Crossings
 
 "In Dirt, Bill Buford talks his way into the cooking schools, bakeries, and chefs' kitchens of Lyon—in French, yet—while staying (mostly) in his family's good graces. The result is a book to drool for. Magnifique!" —Mary Norris, author of Between You and Me: Confessions of a Comma Queen and Greek to Me 

"Buford spent five years cooking his way through the famed kitchens of Lyon, France, in an attempt to answer the question: why is French food so damn good? The answer, perhaps, lies in the book's title (spoiler alert), but the journey to get there is a delicious and eye-opening one." —Plate Magazine ("Spring's Best Food Books")

"Dirt is a memoir about French cuisine, but it's also about family, work, obsession, perfectionism, and what happens when you actually do that crazy thing you've always wanted to do."
 —Men's Health

"A warm and funny and very delicious story about a man late in life falling in love with cooking . . . Buford [is] an energetic, exquisite writer . . . Once he arrives in Lyon for the serious instruction 
Dirt has really hit its stride, tasty and Dickensian in its characterizations and also ridiculous."
—John Freeman, Lit Hub ("Lit Hub's Most Anticipated Books of 2020")

"Buford illustrates just how difficult rising through the ranks of restaurant kitchens can be, even for classically trained young chefs—especially when those chefs are women or non-white . . . Much of the humor here comes from anecdotes about Buford's surprisingly resilient young family . . . One wonders if Buford will again upend his family's life to embark on another international culinary adventure. If so, readers will be eager to pack up and follow along."
 —Norah Piehl, Bookreporter