The Flight Portfolio: A novel (Vintage Contemporaries) (Paperback)
We will be closed on Saturday, July 4th in observance of Independence Day.
We are available Monday to Saturday 10:00 a.m. to 4:00 p.m. for Limited Browsing, Order Pickup, Phone Orders, and Contactless Parking Lot Pickup. Order online 24 hours a day.
**Free Local Area Delivery on Tuesday and Friday**
*USPS shipping is taking up to 2-3 weeks instead of 2-7 days, please consider contactless Parking Lot Pickup if you are in the area.
Please Note: Many of the high demand books that say 'On our Shelves Now' are on hold for other customers. We are hoping that they will be back in stock at the warehouse around the middle of June. Thank you for your patience.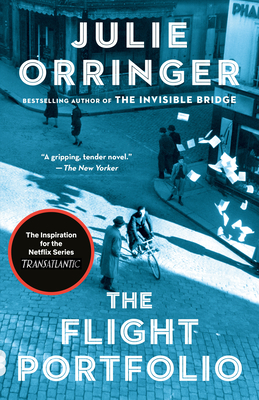 List Price: $16.95
Our Price: $15.26
(Save: $1.70 10%)
Description
---
MARSEILLE, 1940. Varian Fry, a Harvard-educated journalist and editor, arrives in France. Recognizing the darkness descending over Europe, he and a group of like-minded New Yorkers formed the Emergency Rescue Committee, helping artists and writers escape from the Nazis and immigrate to the United States. Now, amid the chaos of World War II, and in defiance of restrictive U.S. immigration policies, Fry must procure false passports, secure visas, seek out escape routes through the Pyrenees and by sea, and make impossible decisions about who should be saved, all while under profound pressure—and in a state of irrevocable personal change. In this dazzling work of historical fiction—one that illuminates previously unexplored elements of Fry's story, and has, since its publication, brought us new insight into his life—Julie Orringer, award-winning author of The Invisible Bridge, has crafted a gripping tale of forbidden love, high-stakes adventure, and unimaginable courage.
About the Author
---
Julie Orringer is the New York Timesbest-selling author of two award-winning books: The Invisible Bridge, a novel, and How to Breathe Underwater, a collection of stories. She has received fellowships from the Guggenheim Foundation, the National Endowment for the Arts, the Cullman Center at the New York Public Library, the MacDowell Colony, and the Radcliffe Institute for Advanced Study at Harvard. She lives in Brooklyn with her husband and children. www.julieorringer.com
Praise For…
---
"A gripping, tender novel." —The New Yorker

"Magnificent . . . a deeply researched, almost unbearably tense, bruised-knuckle hybrid. Part real history and part love story, it's also a deeply moral work, asking tough questions about what matters most to us personally—and to the world." —The Boston Globe

"Sympathetic and prodigiously ambitious. . . . [Orringer's] Marseille breathes as a city breathes." —Cynthia Ozick, The New York Times Book Review

"Gorgeous. . . . Classic storytelling through a transgressive lens. The Flight Portfolio offers a testament to . . . the enduring transformative power of art, and love, in any form." —Entertainment Weekly

"Extraordinary. . . . Orringer has delivered a story with a splendid cast of characters and an intoxicating portrait of a time and place. . . . There's suspense and tragedy, unexpected twists and deliverance." —The Seattle Times
 
"Passionate and thoroughgoing. . . . [The Flight Portfolio] brings to light a truly inspiring episode in history." —The Wall Street Journal
 
"Varian Fry lit a small, bright lamp in a world of darkness, and in the deft hands of Julie Orringer—under the spell of her masterful prose, her feeling portraiture, her classic spy-thriller plotting, and her vivid re-creation of that beautiful and terrible world—I found the radiance of Fry's courage, flawed humanity, and steadfast resistance shedding an inexhaustible light on our own ever-darkening time." —Michael Chabon, author of Moonglow
 
"The novel seeks a kind of redress: restoring, to history's vast panorama, a granular sense of how life on the borderlines of fascism feels . . . Orringer's true subject, the moral peril of being alive, is a grandly timeless—and timely—one." —T Magazine
 
"Magnificent. . . . Brilliantly conceived, impeccably crafted, and showcasing Orringer's extraordinary gifts, this is destined to become a classic." —Publishers Weekly(starred review)
 
"The novel exudes atmosphere. . . . Through cinematically detailed descriptions [and] multilayered, nuanced characters both real and imagined, Orringer has breathed life into 1940 France. . . . The Flight Portfoliocompellingly juxtaposes the conflicts and tragedies of a world at war with the equally compelling inner wars of the human soul." —Pittsburg Post-Gazette
 
"Meticulous, bighearted, gorgeous, historical, suspenseful, everything you want a novel to be." —Andrew Sean Greer, Pulitzer Prize–winning author of Less
 
"Altogether satisfying. . . . An accomplished storyteller at work." —Kirkus Reviews(starred review)
 
"Thoughtful and absorbing. . . . Orringer is a meticulous researcher, and the novel's cloak-and-dagger thrills keep the pace lively." —BookPage
 
"Superb. . . . [The Flight Portfolio] will both warm and break your heart." —Business Insider