Dad By My Side (Board book)
*USPS shipping is taking up to 2-3 weeks instead of 2-7 days, please consider contactless Parking Lot Pickup if you are in the area.
Please Note: Most of the anti-racism books that say 'on our shelves now' are on hold already for customers. We are hoping that they will be back in stock at the warehouse around the middle of June. Thank you for your patience.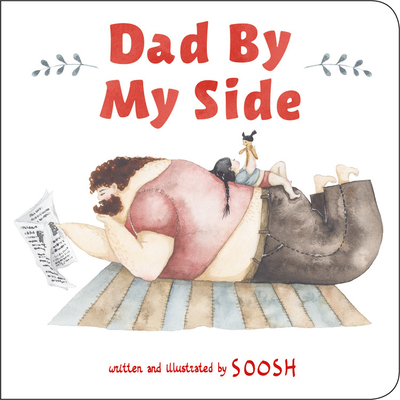 List Price: $7.99
Our Price: $7.19
(Save: $0.80 10%)
Description
---
A heartwarming celebration of the special relationship between a father and daughter from Instagram sensation Soosh.

Whether they're playing make-believe, making you smile, or warding off monsters under the bed, dads are always there when you need them. Debut picture book artist Soosh celebrates fathers with a gorgeously illustrated and moving story about the parent-child bond.

When Soosh first posted her initial series of images of a larger-than-life father and his adorable daughter on Instagram, fans from across the world immediately took notice with over 2 million views on a popular viral content website in a single week.

These illustrations now come together in a universally relatable story of familial love for parents and children to share.
About the Author
---
Soosh is a self-taught artist who has been doodling, drawing, and crafting things with her hands her whole life. Dad by My Side, her debut picture book, began as a series of illustrations she posted on Instagram that claimed the hearts of hundreds of thousands of fans worldwide. She currently lives in Eastern Europe.
Praise For…
---
Praise for Dad By My Side:
p.p1 {margin: 0.0px 0.0px 0.0px 0.0px; font: 13.0px Times}
span.s1 {font-kerning: none; background-color: #ffffff}
span.s2 {font-kerning: none}
"Adorable...a universal story of endless family love."—
Entertainment Weekly
"Endearing."—
The Wall Street Journal
"With a dad like this by a child's side, there is little that cannot be accomplished."—
Kirkus Reviews, starred review
p.p1 {margin: 0.0px 0.0px 0.0px 0.0px; font: 13.0px Times}
"With great tenderness, Soosh conveys the many important roles that a father plays in a child's life--roles that can change from moment to moment."—
Publishers Weekly