Amelia Westlake Was Never Here (Paperback)
*USPS shipping is taking up to 2-3 weeks instead of 2-7 days, please consider contactless Parking Lot Pickup if you are in the area.
Please Note: Most of the anti-racism books that say 'on our shelves now' are on hold already for customers. We are hoping that they will be back in stock at the warehouse around the middle of June. Thank you for your patience.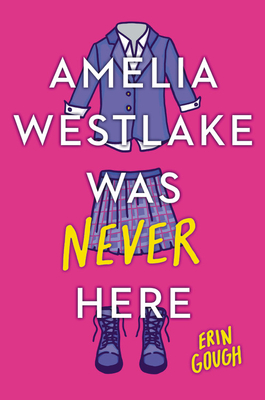 List Price: $10.99
Our Price: $9.89
(Save: $1.10 10%)
Description
---
A fiercely funny, queer romantic comedy about two girls who can't stand each other, but join forces in a grand feminist plan to expose harassment and inequality at their elite private school.


Harriet Price is the perfect student: smart, dutiful, over-achieving. Will Everhart is a troublemaker who's never met an injustice she didn't fight. When their swim coach's inappropriate behavior is swept under the rug, the unlikely duo reluctantly team up to expose his misdeeds, pulling provocative pranks and creating the instantly legendary Amelia Westlake -- an imaginary student who helps right the many wrongs of their privileged institution. But as tensions burn throughout their school -- who
is
Amelia Westlake? -- and between Harriet and Will, how long can they keep their secret? How far will they go to make a difference? And when will they realize they're falling for each other?
Award-winning author Erin Gough's Amelia Westlake Was Never Here is a funny, smart, and all-too-timely story of girls fighting back against power and privilege -- and finding love while they're at it.
About the Author
---
Erin Gough is a Sydney-based writer whose first young adult novel, The Flywheel, won Hardie Grant Egmont's Ampersand Prize. The Flywheel was published in the United States as Get it Together, Delilah! and was shortlisted for the CBCA's Book of the Year for Older Readers and the Centre for Youth Literature's Gold Inky. It was also named a White Raven International Youth Library title.
Praise For…
---
Entertainment Weekly's 10 Best YA Books of the Year (2019)

2020 CCBC Choices List
2020 Rise: A Feminist Book Project List (Young Adult Fiction)
The Readings Young Adult Book Prize Winner (2018)
Shortlisted for the Queensland Literary Awards (2018)
Shortlisted for the Victorian Premier's Literary Awards (2019)
Winner of the 2019 Ethel Turner Prize for Young People's Literature
Shortlisted for the Ethel Turner Prize for Young People's Literature (2019)
Shortlisted for the 2019 Gold Inky Award
Shortlisted for the 2019 ABIA Awards - Book of the Year for Older Children (ages 13+)
The White Ravens List (2019)



"Sharp-witted and unapologetically queer, with an opposites-attract romance I absolutely adored."—Malinda Lo, author of Ash and A Line in the Dark

"The novel is a zippy, heady reminder of the power we have inside ourselves to speak truth to power, to lash out at a system that has lured us into a false sense of comfort. ...Gough's true gift, however, is her ability to take a tale about power, privilege, and protest, and avoid anything that feels polemical or preachy. Instead, she's crafted a love story steeped in social justice that feels fresh, funny, fierce, and full of hope." (A rating)
—Entertainment Weekly


"Gough's novel pulses with hilarious, defiant heart. I rooted for unlikely allies Harriet and Will from the first pages and couldn't get enough of their chemistry. Maybe Amelia Westlake is imaginary, but her triumph over injustice is so gratifying and genuine."—Adrienne Kisner, author of Dear Rachel Maddow

"Empowering and insightful, Amelia Westlake Was Never Here is a rollicking reminder that even the smallest actions can change the world. This book is a feminist, romantic delight."—Ashley Herring Blake, author of Girl Made of Stars

"Filled with surprises and twists, Amelia Westlake Was Never Here is so smart and quick that I found myself speed reading to find out what happened next--and then going back to make sure I didn't miss a single line. Clever and effortless."—Katrina Leno, author of The Half Life of Molly Pierce

"Quirky, original, and completely charming characters, an adorable love story, plus a feminist plot to take down institutionalized misogyny at a stuffy prep school... Yes please. I loved everything about this book."—Sarah Watson, creator of The Bold Type and author of Most Likely

* "A refreshing, timely, and downright delightful story with a diverse, three-dimensional cast of characters whose hijinks are thrilling without being unrealistic."
—School Library Connection, starred review


* "This is quick-witted, fiercely intelligent storytelling at its finest--a testament to the power of women, LGBTQ strong, socially conscious, enormously fun, and utterly irresistible."—VOYA, starred review


* "Gough manages to strike the perfect balance between heartwarming queer romance and essential social criticism in this pertinent and empowering story."—Shelf Awareness, starred review


"Well-paced and satisfying.... Empowering."
—Kirkus Reviews


"Plenty of high-stakes drama. A vigilante justice story with a moral compass and a tender heart."—Booklist

"Creative, funny, and satisfying."—Horn Book


"[For] readers who like their feminist empowerment and gay-positive romances with a healthy dose of fun."—BCCB

"A hilarious social satire wrapped in a queer love story."—Cecilia Cackley, East City Bookshop (Washington, DC)

"Light and funny with fantastic character development and a delicious slow-burn queer romance."—Abby Rauscher, Books Are Magic (Brooklyn, NY)

"This is the greatest hoax I have ever had the pleasure of reading."—Nichole Cousins, White Birch Books (North Conway, NH)

"This hilarious romantic comedy takes you through hoaxes and loves and fears."—Abby Rice, The Briar Patch (Bangor, ME)

"Come for patriarchy-smashing pranks; stay for the sweet love story."—NPR Books


"[Audiobook narrators] Moll and Rosenberg nail the quirks and layers of their characters perfectly-from Will's disaffected sneer, which covers up her deep vulnerability, to Harriet's chipper observations, which are tinged with quiet desperation. The narrators excel at creating distinct voices for each girl while consistently mirroring the other in the dialogue between them. The consistency gives listeners insight into Will's changing perception of Harriet and vice versa."—AudioFile