Qualification: A Graphic Memoir in Twelve Steps (Pantheon Graphic Library) (Hardcover)
We are available Monday to Saturday 10:00 a.m. to 5:00 p.m. for Limited Browsing, Order Pickup, Phone Orders, and Contactless Parking Lot Pickup. Order online 24 hours a day.
**Free Local Area Delivery on Tuesday and Friday**
*USPS shipping is taking up to 2-3 weeks instead of 2-7 days, please consider contactless Parking Lot Pickup if you are in the area.
Please Note: Many of the high demand books that say 'On our Shelves Now' are on hold for other customers. We are hoping that they will be back in stock at the warehouse around the middle of June. Thank you for your patience.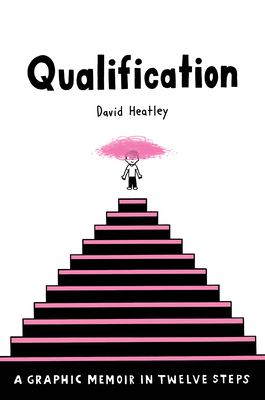 List Price: $26.95
Our Price: $24.26
(Save: $2.70 10%)
Sold Out--Can order from warehouse
Description
---
"Say what you mean, but don't say it mean." —12-Step aphorism

From the author of My Brain Is Hanging Upside Down, a new graphic memoir brimming with black humor, which explores the ultimate irony: the author's addiction to 12-Step programs.

David Heatley had an unquestionably troubled and eccentric childhood: father a sexually repressed alcoholic, mother an overworked compulsive overeater. Then David's parents enter the world of 12-step programs and find a sense of support and community. It seems to help. David, meanwhile, grows up struggling with his own troublesome sexual urges and seeking some way to make sense of it all. Eventually he starts attending meetings too. Alcoholics Anonymous. Overeaters Anonymous. Debtors Anonymous. Sex and Love Addicts Anonymous. More and more meetings. Meetings for issues he doesn't have.

With stark, sharply drawn art and unflinching honesty, David Heatley explores the strange and touching relationships he develops, and the truths about himself and his family he is forced to confront, while "working" an ever-increasing number of programs. The result is a complicated, unsettling, and hilarious journey—of far more than 12 steps.
About the Author
---
DAVID HEATLEY's comics and drawings have appeared on the cover of The New Yorker and in every section of The New York Times. His work has also appeared in Granta, McSweeney's, Best American Comics (cover artist), Nickelodeon Magazine, and Time Out, among many others. His first graphic memoir, My Brain Is Hanging Upside Down, was published in the US, UK, France, Spain and Belgium.  He lives in Jackson Heights, New York, with his wife Rebecca Gopoian and their two children.
Praise For…
---
"Heatley is a great, dark, funny, truth teller. Qualification reveals how complex humans are, how full of contradictions, what a life-time struggle it is to sort it all out, a test at which no one ever fully succeeds. I could deeply identify with Heatley's alienation, his honest self revelations, his humor. His observations of other people and the unfolding events in his life make for a powerful graphic story."
—R. Crumb
 
"This graphic narrative, rich in detail and reflection, shouldn't be read quickly in one sitting but rather savored. Heatley powerfully demonstrates that when lives are messiest, art remains cathartic, even redemptive."
—Kirkus Reviews (starred review)

"One of the most unflinchingly honest and emotionally raw memoirs ever written . . . Readers will find themselves moved by this stunning memoir, and perhaps even grateful for the author's refusal to shy away from depicting the complexity of his ongoing development as an artist and a human being."
—Tom Batten, Library Journal (starred review)

"Both sobering and spirit-lifting . . . Heatley (My Brain Is Hanging Upside Down) recounts in squirmy, funny detail a chaotic childhood that leads to an ironic 'addiction' to recovery programs in this ultra-candid memoir."
—Publishers Weekly (starred review)

"Acclaimed artist David Heatley delivers a heavy but self-revelatory examination of 12-step programs and the nature of addiction. . . . A masterful inventory of a life lived in search of intangible purpose."
—Zack Ruskin, Shelf Awareness

"The payoffs and pitfalls of a lifetime spent in 12-step programs are portrayed with brutal candor in Heatley's unflinching graphic memoir of his decades-long search for solutions to his vices."
—Booklist