This Body's Not Big Enough for Both of Us: A Novel (Hardcover)
*USPS shipping is taking up to 2-3 weeks instead of 2-7 days, please consider contactless Parking Lot Pickup if you are in the area.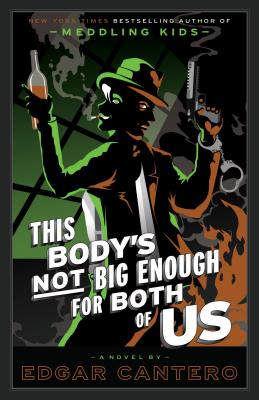 List Price: $25.95
Our Price: $23.36
(Save: $2.60 10%)
Hard to Find - Unable to Order
Staff Reviews
---
"From the author of Meddling Kids comes a quirky take on the hard-boiled detective novel and sibling rivalry. Adrian and Zooey Kimrean are not your typical private investigators. Adrian is a cold, calculating genius with a photographic memory, something he tends to rub in everybody's face. Zooey is a wild, impulsive sex addict who will drink, smoke or snort any substance she can get her hands on. You may wonder how this brother and sister team can work together. The thing is... they have no choice. The Kimreans are the world's first pair of "perfect" chimeric twins: sibling who share the same body but occupy different hemispheres of the brain. Called in by a detective who's experienced their extraordinary talents rst-hand, Adrian and Zooey must help the San Francisco police department solve the murder of a mafia don's son before a gang war breaks out and threatens the life of a man they have on the inside. If you want to experience a uniquely different detective novel that doesn't have any qualms about poking fun at the mystery genre, check this book out!"--Reviewed by Matt
— From
Matt Recommends
Description
---
"Joss Whedon...can't possibly write All The Things That Are Kind Of Like This. So hallelujah that Edgar Cantero – a Barcelona native whose first language is Spanish, but who spits pop-culture in English like the savviest geek in, say, Sheboygan posting on Tumblr – is writing some of them."--The Austin Chronicle

From the New York Times bestselling author of Meddling Kids comes a mind-blowing, gender-bending, genre-smashing romp through the entire pantheon of action and noir. It is also a bold, tautly crafted novel about family, being weird, and claiming your place in your own crazy story.

    In a dingy office in Fisherman's Wharf, the glass panel in the door bears the names of A. Kimrean and Z. Kimrean. Private Eyes. Behind the door there is only one desk, one chair, one scrawny androgynous P.I. in a tank top and skimpy waistcoat. A.Z., as they are collectively known, are twin brother and sister. He's pure misanthropic logic, she's wild hedonistic creativity. The Kimreans have been locked in mortal battle since they were in utero...which is tricky because they, very literally, share one single body. That's right. One body, two pilots. The mystery and absurdity of how Kimrean functions, and how they subvert every plotline, twist, explosion, and gunshot--and confuse every cop, neckless thug, cartel boss, ninja, and femme fatale--in the book is pure Cantero magic.
     Someone is murdering the sons of the ruthless drug cartel boss known as the Lyon in the biggest baddest town in California--San Carnal. The notorious A.Z. Kimrean must go to the sin-soaked, palm-tree-lined streets of San Carnal, infiltrate the Lyon's inner circle, and find out who is targeting his heirs, and while they are at it, rescue an undercover cop in too deep, deal with a plucky young stowaway, and stop a major gang war from engulfing California. They'll face every plot device and break every rule Elmore Leonard wrote before they can crack the case, if they don't kill each other (themselves) first.
     This Body's Not Big Enough for Both of Us is a brilliantly subversive and comic thriller celebrating noir detectives, Die Hard, Fast & Furious, and the worst case of sibling rivalry, that can only come from the mind of Edgar Cantero.
About the Author
---
Edgar Cantero is a writer and cartoonist from Barcelona working in Catalan, Spanish and English. He is the New York Times bestselling author of Meddling Kids and The Supernatural Enhancements.
Praise For…
---
"This Body is a book that lives in the intersection between reality and pop-culture, but it does so with a kind of honesty because that's where its characters live. Likely where Cantero lives, too. It packs more references, asides, call-outs and side-eyes into a single paragraph than anything you've ever read...once you settle into the rat-a-tat prattle of the dialog and the tinkling of shell casings hitting the floor, it's a ride, for sure."
--NPR.org

"In A.Z. Kimrean, Cantero has written the funniest private investigator this side of Peter Sellers. How can you not love the warring siblings, opposites in a single body, as they outwit everyone they meet? You will. You will love them."
--Josh Malerman, New York Times bestselling author of Bird Box and Unbury Carol

"Audacious, clever, and ridiculously entertaining at every page turn… Subverting familiar tropes of the detective genre is a fertile playground for Cantero and the result is something extraordinarily alluring."
--SYFYWIRE

"Cantero is exercising a lot of genre tropes in [Meddling Kids]–although not as psychedelically as he does in...the private-eye-skewering, gender-confounding This Body's Not Big Enough for Both of Us – and the exercise pays off in satisfying dividends. Especially because Joss Whedon, you know? Because Joss Whedon is, after all, only a single human being, and thus can't possibly write All The Things That Are Kind Of Like This. So hallelujah that Edgar Cantero – a Barcelona native whose first language is Spanish, but who spits pop-culture in English like the savviest geek in, say, Sheboygan posting on Tumblr – is writing some of them."
--The Austin Chronicle

"[A] winning spoof…Literary references (Bret Easton Ellis, John Grisham, and Ayn Rand in one sentence), clever quips ("an arrogance of college jocks"), and bad puns (a carpenter who loses his tools is a "saw loser") keep the pages turning. Few will be able to resist Cantero's broad, quirky humor."
--Publishers Weekly