Blue Ticket: A Novel (Hardcover)
We will be closed on Saturday, July 4th in observance of Independence Day.
We are available Monday to Saturday 10:00 a.m. to 4:00 p.m. for Limited Browsing, Order Pickup, Phone Orders, and Contactless Parking Lot Pickup. Order online 24 hours a day.
**Free Local Area Delivery on Tuesday and Friday**
*USPS shipping is taking up to 2-3 weeks instead of 2-7 days, please consider contactless Parking Lot Pickup if you are in the area.
Please Note: Many of the high demand books that say 'On our Shelves Now' are on hold for other customers. We are hoping that they will be back in stock at the warehouse around the middle of June. Thank you for your patience.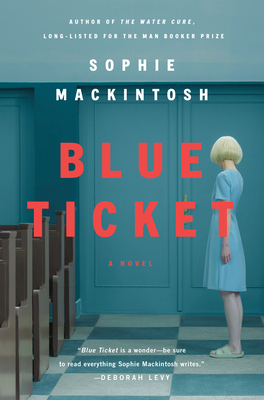 List Price: $26.95
Our Price: $24.26
(Save: $2.70 10%)
Description
---
"The cool intensity and strange beauty of Blue Ticket is a wonder - be sure to read everything Sophie Mackintosh writes."--DEBORAH LEVY, author of HOT MILK and THE MAN WHO SAW EVERYTHING

From the author of the Man Booker Prize longlisted novel The Water Cure ("ingenious and incendiary"--The New Yorker) comes another mesmerizing, refracted vision of our society: What if the life you're given is the wrong one?

Calla knows how the lottery works. Everyone does. On the day of your first bleed, you report to the station to learn what kind of woman you will be. A white ticket grants you marriage and children. A blue ticket grants you a career and freedom. You are relieved of the terrible burden of choice. And once you've taken your ticket, there is no going back. But what if the life you're given is the wrong one?

When Calla, a blue ticket woman, begins to question her fate, she must go on the run. But her survival will be dependent on the very qualities the lottery has taught her to question in herself and on the other women the system has pitted against her. Pregnant and desperate, Calla must contend with whether or not the lottery knows her better than she knows herself and what that might mean for her child.

An urgent inquiry into free will, social expectation, and the fraught space of motherhood, Blue Ticket is electrifying in its raw evocation of desire and riveting in its undeniable familiarity.
About the Author
---
SOPHIE MACKINTOSH is the author of The Water Cure, which was longlisted for the 2018 Man Booker Prize and won the 2019 Betty Trask Award. In 2016 she won the White Review Short Story Prize and the Virago/Stylist Short Story competition. She has been published in The New York Times, Elle, and Granta magazine, among others.
Praise For…
---
"[Mackintosh's] style is spare but thoughtful. Every detail enhances the plot and the atmosphere at once...Sophie Mackintosh lays bare many of the fears and realities that face any society's women as they contemplate when their choices begin, and where they might end."—BOSTON GLOBE

"Mackintosh's second novel is even more hallucinatory and spiraled than her first...[Blue Ticket is] terrifying and enchanting in equal measure."—LITHUB (The Best New Books to Read This Summer)
 
"Told with ragged prose that catches the breath, Calla's journey articulates the irrepressible desires and wounds that can lie deep within, and is marked by a claustrophobia that never stops pressing in from the margins. This unsettling reimagining of the anxieties and pressures around motherhood lays bare the alienation that comes when your body is not truly yours."—THE IRISH NEWS

"Strange and luminous, beautifully spare and precise: Sophie Mackintosh constructs her disturbing premise with such skill that I found myself forgetting that the world of Blue Ticket is not (quite) our own. A thrilling and nuanced exploration of what it means to follow one's own longing to the point of destruction and beyond"—ROSIE PRICE, author of WHAT RED WAS

"Blue Ticket manages to be both claustrophobic and expansive, dream-like and heart-stoppingly tense. Lushly textured and stunningly written, you will want to languish in its world for a very long time" —LARA WILLIAMS, author of SUPPER CLUB

"Utterly exquisite - clever and brilliant and heartbreaking. From the dusty road to the salving forest, I absolutely adored it."—EMMA JANE UNSWORTH, author of ADULTS and ANIMALS

"In her thought-provoking novel about fate, control, and biology, Mackintosh keeps the reader turning pages as Calla's due date approaches. A must for Handmaid's Tale aficionados."—BOOKLIST *STARRED REVIEW*

"Mackintosh's haunting, dystopian tale explores the emotional fallout of forced birth control in a near-future society . . . [A] tense, visionary drama."—PUBLISHERS WEEKLY

Praise for Sophie Mackintosh and The Water Cure:

"A gripping, sinister fable!"—MARGARET ATWOOD, via Twitter

"Darkly gratifying, primal and arresting...ingenious and incendiary"—NEW YORKER 

"An extraordinary otherworldly debut... [Mackintosh] is writing the way that Sofia Coppola would shoot the end of the world: Everything is luminous."—THE GUARDIAN

"Sensational...Mackintosh's taut novel turns a keen, unsparing eye on violence, patriarchy, and desire."—ESQUIRE

 "[A] chilling, beautifully written novel...the tautness and tension of the writing are staggering."—Judges Panel Citation, MAN BOOKER PRIZE 2018

"I loved this book. It rushes you through to the end on a tide of tension and closely held panic. Eerie, beautiful, electric."—DAISY JOHNSON, author of EVERYTHING UNDER

"Sophie Mackintosh casts an exquisite, irresistible spell..."
—LENI ZUMAS, author of RED CLOCKS