The Phantom Tollbooth (Paperback)
We will be closed on Saturday, July 4th in observance of Independence Day.
We are available Monday to Saturday 10:00 a.m. to 4:00 p.m. for Limited Browsing, Order Pickup, Phone Orders, and Contactless Parking Lot Pickup. Order online 24 hours a day.
**Free Local Area Delivery on Tuesday and Friday**
*USPS shipping is taking up to 2-3 weeks instead of 2-7 days, please consider contactless Parking Lot Pickup if you are in the area.
Please Note: Many of the high demand books that say 'On our Shelves Now' are on hold for other customers. We are hoping that they will be back in stock at the warehouse around the middle of June. Thank you for your patience.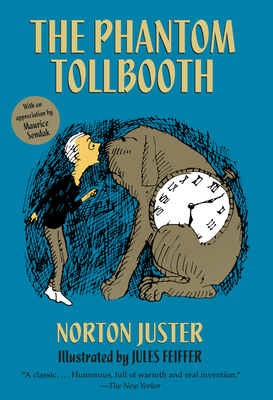 List Price: $8.99
Our Price: $8.09
(Save: $0.90 10%)
Description
---
With almost 4 million copies sold more than 50 years after its original publication, generations of readers have now journeyed with Milo to the Lands Beyond in this beloved classic. Enriched by Jules Feiffer's splendid illustrations, the wit, wisdom, and wordplay of Norton Juster's offbeat fantasy are as beguiling as ever. 

"Comes up bright and new every time I read it . . . it will continue to charm and delight for a very long time yet. And teach us some wisdom, too." --Phillip Pullman

For Milo, everything's a bore. When a tollbooth mysteriously appears in his room, he drives through only because he's got nothing better to do. But on the other side, things seem different. Milo visits the Island of Conclusions (you get there by jumping), learns about time from a ticking watchdog named Tock, and even embarks on a quest to rescue Rhyme and Reason. Somewhere along the way, Milo realizes something astonishing. Life is far from dull. In fact, it's exciting beyond his wildest dreams!
About the Author
---
Norton Juster is an architect and planner, professor emeritus of design at Hampshire College, and the author of a number of highly acclaimed children's books, including The Dot and the Line, which was made into an Academy Award-winning animated film. He has collaborated with Sheldon Harnick on the libretto for an opera based on The Phantom Tollbooth. The musical adaptation, with a score by Arnold Black, premiered in 1995 and is performed in schools and theaters nationwide. An amateur cook and professional eater, Mr. Juster lives in Amherst, Massachusetts.


Jules Feiffer is the author of several books for young readers, including The Man in the Ceiling and A Barrel of Laughs, a Vale of Tears, I Lost My Bear, Bark, George, and Meanwhile.... He has won a number of prizes for his cartoons, plays, and screenplays. Mr. Feiffer lives in New York City.
Praise For…
---
"I read The Phantom Tollbooth first when I was 10. I still have the book report I wrote, which began 'This is the best book ever.'"-Anna Quindlen, The New York Times

"A classic--Humorous, full of warmth and real invention."-The New Yorker

"The Phantom Tollbooth is the closest thing we have to a modern Alice in Wonderland."—The Guardian

"The book lingers long after turning the final page. . . . A classic indeed." —Los Angeles Review of Books

"You loved the humor and adventure . . . and [now] you'll marvel at [the book's] wit, complexity, and its understanding of how children perceive the passage of time." —Entertainment Weekly