Jamaica's Find (Paperback)
Monday to Thursday 10AM to 7PM--Friday & Saturday 10AM to 8PM
--Open 11AM to 5PM on Sunday **Order online any time.
Expanded Sunday Hours: 12/11 & 12/18 - 10:00 a.m. to 6:00 p.m.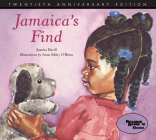 $8.99

Sold Out--Can order from warehouse
Description
---
In this richly illustrated picture book, when first grader Jamaica finds a stuffed animal in the park, she comes up against a moral dilemma and the concepts of right and wrong.

Jamaica really likes the toy dog and wants to keep it! But with the help of her family, Jamaica decides that it could belong to a kid, just like her. What will Jamaica decide to do? With simple yet vivid text and gentle illustrations, this hopeful and relatable story of lost-and-found will add to every child's toolbox of understanding how to be an empathetic person in our big and beautiful diverse world.
About the Author
---
JUANITA HAVILL is an American children's picture book author best known for the Jamaica books. She has also written a young adult novel, Eyes Like Willy's. She lives in Arizona.

ANNE SIBLEY O'BRIEN has illustrated more than thirty-three books for children, including the Jamaica stories. She lives on an island in Maine with her husband.
Praise For…
---
"Children Jamaica's age, struggling with the concepts of right and wrong, will undoubtedly find Jamaica's moral dilemma of great interest." Publishers Weekly —