Why Are All the Black Kids Sitting Together in the Cafeteria?: Revised Edition (Paperback)
We are available Monday to Saturday 10:00 a.m. to 5:00 p.m. for Limited Browsing, Order Pickup, Phone Orders, and Contactless Parking Lot Pickup. Order online 24 hours a day.
**Free Local Area Delivery on Tuesday and Friday**
Please Note: Many of the high demand books that say 'On our Shelves Now' are on hold for other customers. You can place an order and we will let you know when they come back in stock. Thank you for your patience.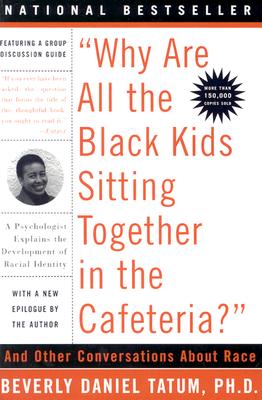 List Price: $16.99
Our Price: $15.29
(Save: $1.70 10%)
Out of Print - Unable to Order
Description
---
The classic, bestselling book on the psychology of racism -- now fully revised and updated

Walk into any racially mixed high school and you will see Black, White, and Latino youth clustered in their own groups. Is this self-segregation a problem to address or a coping strategy? Beverly Daniel Tatum, a renowned authority on the psychology of racism, argues that straight talk about our racial identities is essential if we are serious about enabling communication across racial and ethnic divides. These topics have only become more urgent as the national conversation about race is increasingly acrimonious. This fully revised edition is essential reading for anyone seeking to understand the dynamics of race in America.
About the Author
---
Beverly Daniel Tatum, PhD, is president emerita of Spelman College and in 2014 received the Award for Outstanding Lifetime Contribution to Psychology, the highest honor presented by the American Psychological Association. She lives in Atlanta, Georgia.
Praise For…
---
"When I began my own journey of anti-racism, Beverly Daniel Tatum's Why
Are All the Black Kids Sitting Together in the Cafeteria? was the first
and most instructive work I discovered. Its anniversary edition-with
timely new research, revisited institutional issues, and personal
examples so fresh they seem to have come from the headlines-is the book
that everyone in America needs to read right now. With clarity and
grace, Tatum chronicles how our country has become so racially
polarized-how the methods and signifiers may have changed, but the world
has not, sustaining inequities for people of color in terms of school
segregation, law enforcement, economic obstacles, and voting rights.
From the spate of police shootings to the challenge to Affirmative
Action, from the rise of the Black Lives Matter movement and the
parallel swell of hate crimes based on race, this updated version of a
classic is the clearest illustration I've found of how fear and anxiety
in the declining White population of the US has created a living
environment of fear and anxiety for people of color. We don't talk about
race in America, but we must start if we are going to heal this broken
country-and Tatum's book is exactly the conversation opener we should be
using."
-Jodi Picoult, #1 New York Times bestselling author of Small Great Things


"In the face of setbacks economically, socially, and racially, Beverly
Daniel Tatum's work is ever relevant. Spanning so very much history in
recent decades and engagingly written, this book remains the go-to
volume on identity groups and social exclusion, especially among
college-aged people."
-Roger Brooks, President and CEO, Facing History and Ourselves


"We read the original version of this book 20 years ago and learned a
great deal about race, racism, and human behavior. This updated version
provides even more insights about the racial, ethnic, and cultural
challenges we face in American society, and particularly in higher
education. What makes these insights so valuable is the author's ability
to look at our problems from different perspectives and to challenge us
to look in the mirror as we think about who we are and whom we serve.
She gives excellent examples of leaders who succeeded during times of
crisis, and of others who struggled. Any American leader wanting a
deeper understanding of these issues should read this book."
-Freeman A. Hrabowski III, President, University of Maryland, Baltimore County


"Beverly Tatum answers the question posed in the title of her book in a
brilliant synthesis informed by history, developmental psychology and
great wisdom. Stereotypes, omissions and distortions-each rooted in our
nation's history of slavery-cause each of us to breathe the "smog of
racism." It is little wonder that Black adolescents rely on one another
for social support as they navigate identity development. In the 20
years since Tatum first published her classic book, Black people have
been disproportionately affected by the economic crisis of 2008, mass
incarceration and a backlash against affirmative action. In this
revision, Tatum finds a way to remain hopeful as today's youth lead
movements exposing racial hierarchies, race and class privilege and
seemingly invisible systems of oppression. This book should be required
reading for every American."
-Kathleen McCartney, President, Smith College


"Why Are All the Black Kids Sitting Together in the Cafeteria? was a
landmark publication when it appeared in 1997. Twenty years later this
updated edition is as fresh, poignant and timely as ever. Bias, explicit
and implicit, limit options, produce deadly encounters, and gnaw away
at the fabric of our social contract. Racism, prejudice, and
discrimination remain active characteristics of life in our society,
notwithstanding the prominence of African Americans, Latinos/as, Asian
Americans, and Native peoples in the media, entertainment, sports,
politics, and many domains of business. Beverly Tatum reminds us that
against this backdrop individuals sometimes seek out others like
themselves because it secures their sense of self in a world that often
makes them feel insecure. As a result, group congregation becomes a
means of flipping the power dynamics and affirming oneself in a social
context. If you somehow missed this book in its original form, I
recommend this revised edition to you. It remains a must read."
-Earl Lewis, President, the Andrew W. Mellon Foundation


"Set today against the backdrop of a highly divisive and still
persistently racialized societal landscape, this newly revised and
updated publication is still a must-read classic. Tatum unpacks with
moving narratives, the psychology that drives us all, as we grow up in
largely homogenous communities, schooled in the nuances of difference
that define too starkly our racial identities, even as we strive to
learn how to embrace rather than distance from the many others that
define our world. Just as this experienced psychologist and wise
educational leader reminds us here that we cannot talk meaningfully
about racial identity without talking about racism, so too must we learn
from her words about how to talk and teach and dialogue across those
boundaries, in the hopes of better realizing the potential of our
diverse democracy."
-Nancy Cantor, Chancellor, Rutgers University-Newark


"In 1997, Why Are All the Black Kids Sitting Together in the Cafeteria? changed the conversation about race and racism in our nation. Twenty years later, this new edition is sure to do the same, this time with thoroughly updated information about the growing ethnic, racial, cultural, and religious diversity that now characterizes the United States, as well as important insights about persistent barriers to authentic integration and shrinking opportunities for many segments of the population. Given the current sociopolitical context in which we find ourselves, a context too often defined by exclusion and the stubborn persistence of bigotry and racism, this new edition couldn't have come soon enough!"
-Sonia Nieto, Professor Emerita, University of Massachusetts, Amherst