My Year of Rest and Relaxation (Hardcover)
We will be closed on Saturday, July 4th in observance of Independence Day.
We are available Monday to Saturday 10:00 a.m. to 4:00 p.m. for Limited Browsing, Order Pickup, Phone Orders, and Contactless Parking Lot Pickup. Order online 24 hours a day.
**Free Local Area Delivery on Tuesday and Friday**
*USPS shipping is taking up to 2-3 weeks instead of 2-7 days, please consider contactless Parking Lot Pickup if you are in the area.
Please Note: Many of the high demand books that say 'On our Shelves Now' are on hold for other customers. We are hoping that they will be back in stock at the warehouse around the middle of June. Thank you for your patience.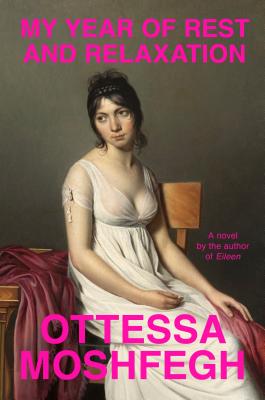 List Price: $26.00
Our Price: $23.40
(Save: $2.60 10%)
Sold Out--Can order from warehouse
Staff Reviews
---
"In Ottessa Moshfegh's new novel, we meet an unnamed narrator who embarks on an anti-adventure of sorts; she plans to sleep for a year in hopes of reawakening and ultimately resetting herself. It's the year 2000, she's young, a recent college grad, wealthy, and good looking. It's extremely convenient that she's living off an inheritance from her parent's passing away. She's working part-time at an art gallery, but this is only a minor distraction in her ultimate goal of sleeping as much as possible. With the help of an eccentric psychiatrist who really should be a patient herself, our narrator is prescribed many "downers" that will help her sleep and sleep hard, resulting in blackouts and sleepwalking excursions. She finds herself going to extreme lengths to preserve her goal and she internally examines many parts of her life that feel very influential in this undertaking. My Year of Rest and Relaxation is not what the doctor prescribed, but you'll enjoy it none the less."
Winter 2019 Reading Group Indie Next List
---
"Ottessa Moshfegh, more than any other writer I can think of, is great at capturing the feelings of despondency and malaise that come with living when and how we do. There are plenty of negative words to describe the narrator of My Year of Rest and Relaxation—she's detached and depressed, she's cruel and unfeeling—but Moshfegh writes her with such care and specificity I felt like I could live in her head forever."
— Theo Henderson, Third Place Books, Lake Forest Park, WA
Description
---
Entertainment Weekly's #1 Book of 2018

"One of the most compelling protagonists modern fiction has offered in years: a loopy, quietly furious pillhead whose Ambien ramblings and Xanaxed b*tcheries somehow wend their way through sad and funny and strange toward something genuinely profound."
— Entertainment Weekly 

From one of our boldest, most celebrated new literary voices, a novel about a young woman's efforts to duck the ills of the world by embarking on an extended hibernation with the help of one of the worst psychiatrists in the annals of literature and the battery of medicines she prescribes.

Our narrator should be happy, shouldn't she? She's young, thin, pretty, a recent Columbia graduate, works an easy job at a hip art gallery, lives in an apartment on the Upper East Side of Manhattan paid for, like the rest of her needs, by her inheritance. But there is a dark and vacuous hole in her heart, and it isn't just the loss of her parents, or the way her Wall Street boyfriend treats her, or her sadomasochistic relationship with her best friend, Reva. It's the year 2000 in a city aglitter with wealth and possibility; what could be so terribly wrong?

My Year of Rest and Relaxation is a powerful answer to that question. Through the story of a year spent under the influence of a truly mad combination of drugs designed to heal our heroine from her alienation from this world, Moshfegh shows us how reasonable, even necessary, alienation can be. Both tender and blackly funny, merciless and compassionate, it is a showcase for the gifts of one of our major writers working at the height of her powers.

Named a Best Book of the Year by: 
The Washington Post, Time, NPR, Amazon,Vice, Bustle, The New York Times, The Guardian, Kirkus Reviews, Entertainment Weekly, The AV Club, & Audible
About the Author
---
Ottessa Moshfegh is a fiction writer from New England. Her first book, McGlue, a novella, won the Fence Modern Prize in Prose and the Believer Book Award. She is also the author of the short story collection Homesick for Another World. Her stories have been published in The Paris Review, The New Yorker, and Granta, and have earned her a Pushcart Prize, an O. Henry Award, the Plimpton Discovery Prize, and a grant from the National Endowment for the Arts. Eileen, her first novel, was shortlisted for the National Book Critics Circle Award and the Man Booker Prize, and won the PEN/Hemingway Award for debut fiction; My Year of Rest and Relaxation, her second novel, was a New York Times bestseller.
Praise For…
---
Named a best book of the year by The Washington Post, Time, The New York Times, Amazon, Buzzfeed, GQ, The Huffington Post, Vice, NPR, LitHub, The Guardian, San Francisco Chronicle, Entertainment Weekly

A New York Times bestseller


"I don't think I'm ever going to get over Ottessa Moshfegh's My Year of Rest and Relaxation." —Parul Sehgal, The New York Times

"Ottessa Moshfegh is easily the most interesting contemporary American writer on the subject of being alive when being alive feels terrible. She has a freaky and pure way of accessing existential alienation, as if her mind were tapped directly into the sap of some gnarled, secret tree . . . Watching Moshfegh turn her withering attention to the gleaming absurdities of pre-9/11 New York City, an environment where everyone except the narrator seems beset with delusional optimism, horrifically carefree, feels like eating bright, slick candy—candy that might also poison you." —Jia Tolentino, The New Yorker
 
"Darkly comic and ultimately profound new novel. . . Moshfegh's extraordinary prose soars as it captures her character's re-engagement." —Vendela Vida, The New York Times Book Review
 
"Because this is a novel by the superabundantly talented Moshfegh—she's an American writer of Croatian and Iranian descent—we know in advance that it will be cool, strange, aloof and disciplined. The sentences will be snipped as if the writer has an extra row of teeth . . . Moshfegh writes with so much misanthropic aplomb, however, that she is always a deep pleasure to read. She has a sleepless eye and dispenses observations as if from a toxic eyedropper . . . Though this novel is set nearly 20 years ago, it feels current. The thought of sleeping through this particular moment in the world's history has appeal." —Dwight Garner, The New York Times

"Just finished My Year of Rest and Relaxation, by Ottessa Moshfegh: caustic, funny, dark addition to the lineage of unlikeable female protagonists (by Mona Awad, Sheila Heti, Anita Brookner, Jean Rhys, Emily Bronte...+ grandmamas Lady MacBeth + Medea)" —Margaret Atwood via Twitter

"The bravado in Moshfegh's comprehensive darkness makes her novels both very funny and weirdly exhilarating . . . As in Eileen, Moshfegh excels here at setting up an immediately intriguing character and situation, then amplifying the freakishness to the point that some rupture feels inevitable. Her confidence never flags; hers are the novels of a writer invigoratingly immune to uncertainty and self-doubt." —Slate
 
"One of the most compelling protagonists modern fiction has offered in years: a loopy, quietly furious pillhead whose Ambien ramblings and Xanaxed bitcheries somehow wend their way through sad and funny and strange toward something genuinely profound." —Entertainment Weekly, Best Books of 2018

"A strange, exhilarating triumph . . . Moshfegh writes with a singular wit and clarity that, on its own, would be more than enough. (Her 2015 debut, Eileen, was shortlisted for the Man Booker Prize, and Rest has already been optioned for film by Australian actress Margot Robbie). But the cumulative power of her narrative—and the sharp turn she takes in its last 30 pages—becomes nothing less than a revelation: sad, funny, astonishing, and unforgettable." —Entertainment Weekly

"Moshfegh's tale of self-care gone off the rails is a caustically funny skewering of artistic pretension and consumption, but also a meditation on grief, privilege and social cohesion." —Huffington Post
 
"The most exciting book of 2018 is about a girl sleeping for a year . . . Ingenious, darkly comedic . . . The novel speeds to the best last page of any book I've likely ever read." —Vice

"This book isn't just buzzy and maniacally entertaining—it's a mean-spirited, tenderhearted masterpiece." —New York Post
 
"My Year of Rest and Relaxation is the most poignant, vulnerable, mature, and—dare I say it?—sincere work that its gifted author has yet produced." —Boston Globe
 
"In flat, deadpan, unembellished prose recalling the cadences of Joan Didion and the clear-eyed candor of Mary Gaitskill, Moshfegh portrays the vacuous interior life (she has virtually no exterior life) of a narcissistic personality simultaneously self-loathing and self-displaying . . .  My Year of Rest and Relaxation is most convincing as an urbane dark comedy, sharp-eyed satire leavened by passages of morbid sobriety, as in a perverse fusion of Sex and the City and Requiem for a Dream." —Joyce Carol Oates, The New York Review of Books 

"Bizarrely fascinating . . . Moshfegh knows how to spin perversity and provocation into fascination, and bleakness into surprising tenderness." —NPR
 
"It's another acerbic character study from an author making a career out of bringing absurdly unlikable people to life. No one can discomfit a reader quite like her." —A.V. Club

"One of the pleasures of reading Ottessa Moshfegh is that—unusually, these days—she rarely writes in the present tense. Instead, the sense of immediacy, the sense of being inside a character, the sense of things happening and having psychic value, both to the writer and her reader, is provided by the structure and content of her sentences. . . . One of the other pleasures of reading Moshfegh is her relentless savagery. All this is delivered as comic—it is comic—but it's not exactly funny, though of course we laugh." —Guardian

"Darkly hilarious . . . [Moshfegh's] the kind of provocateur who makes you laugh out loud while drawing blood." —Vogue

"Electrifying. . . a reminder that there is something to life outside the economic exchange of time for money and money for goods, even if that unnamed thing is obscure and perplexing and just a bit monstrous—particularly as a woman. Literature may not have the all the answers, but it can show us the power and allure of saying no." —Vanity Fair

"I was cringing during every moment of Ottessa Moshfegh's My Year of Rest and Relaxation, and yet I could not put the book down . . . It is mostly, almost by juxtaposition, about the realness of a more subtle and very private expression of pain, no matter the cause, no matter how seemingly trivial. That's what kept me reading even as my cringing muscles grew sore: feeling in my screwed-up face, barked laughs, and watery eyes the translation of that private kind of pain into something I could share." —Claire Benoit, The Paris Review

"There's a casually intimidating power to Moshfegh's writing—the deadpan frankness and softly cutting sentences—that makes any comparison feel not quite right." —Anne Diebel, London Review of Books
Coverage from NPR