Finding François: A Story about the Healing Power of Friendship (Hardcover)
We are available Monday to Saturday 10:00 a.m. to 5:00 p.m. for Limited Browsing, Order Pickup, Phone Orders, and Contactless Parking Lot Pickup. Order online 24 hours a day.
**Free Local Area Delivery on Tuesday and Friday**
Please Note: Many of the high demand books that say 'On our Shelves Now' are on hold for other customers. You can place an order and we will let you know when they come back in stock. Thank you for your patience.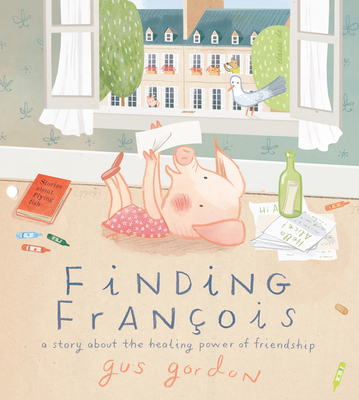 List Price: $17.99
Our Price: $16.19
(Save: $1.80 10%)
Description
---
For fans of A Sick Day for Amos McGee and In a Jar comes a tender and gently adventurous gem about the power of friends to soothe aches big and small.

Alice, a little piglet, loves life with her grandmother, making lists and crème brûlée, organizing buttons, and taking walks. Still, Alice wishes she had a sister--or even a brother. So, she does the sensible thing: She writes a note ("Hello! I am Alice."), tucks it into a bottle, and tosses it into the river, where it drifts out to sea, is captured by an octopus, picked up by a seagull, and arrives at a faraway lighthouse. There, François, a little dog, lives with his dad. François is everything Alice could wish for in a friend, and soon the seas are busy with their bottled correspondence. But when a big change comes, and Alice can't bring herself to write François more letters, will the simple comforts of time, love, and friendship restore the light to Alice's life?

In this marvelous, gently funny and reassuring tale, the lucky and lovely friendship between Alice and François spans the length of the River Seine and the loss of a loved one. Award-winning author and artist Gus Gordon captures the highs and lows of being little, and tenderly shepherds kids on a journey full of fantastic possibilities, friendship, and healing.

* "Reminiscent of William Steig...Will warm hearts and minds with each reading." --Kirkus (starred review)
* "Endearing...Expressive...Intriguing...Heartening...Memorable" --Booklist (starred review)
"Joyful [and] contemplative...[A] timely message that friendships can be maintained over distance and time." --BCCB
"Triumphant...Gentle tongue-in-cheek humor [amid a] central theme of enduring love." --PW
"Charming...[A] soothing, kid-friendly approach to life after loss." --SLJ
"Earnest and playful...tender and inviting." --The Horn Book
About the Author
---
Gus Gordon is a writer and illustrator of books for small people, and older people who like small people's books. His works include I Am Cow, Hear Me Moo!, Herman and Rosie, Somewhere Else, and The Last Peach. Gus lives with his wife and three kids in the Northern Beaches of Sydney, Australia.
Praise For…
---
★ "Gordon's sly humor and understanding of child logic (very reminiscent of William Steig's) shine forth. . . . Elegant language, endearing characters, and irresistible images will warm hearts and minds with each reading." —Kirkus (starred review)

★ "Endearing . . . Expressive . . . The precisely worded text, full of intriguing details, reads aloud beautifully. A heartening, memorable picture book." —Booklist (starred review)

"A beautiful, fun and redemptive story of friendship, loss, love and kindness." —Books to Borrow, Books to Buy

"Triumphant . . . Leavened throughout with gentle, tongue-in-cheek humor [amid a] central theme of enduring love." —Publishers Weekly 

"[A] balance of joyful warmth and contemplative pathos, and the book is particularly respectful of Alice's grieving process, subtly underlining the fact that simply waiting for a friend to work through feelings is a form of support. The watercolor, pencil, and collage art pops . . . [A] timely message that friendships can be maintained over distance and time, and that there is value in both solitude and company." —BCCB

"Charming . . . [A] soothing, kid-friendly approach to life after loss. . . . This is a warm, gentle story about resilience and how the bonds of friendship can mend the heart." —SLJ 

"Strikes just the right balance between earnest and playful. A tender and inviting reflection on the hope and renewal found in friendships." —The Horn Book