To Start a War: How the Bush Administration Took America into Iraq (Hardcover)
We are available Monday to Saturday 10:00 a.m. to 5:00 p.m. for Limited Browsing, Order Pickup, Phone Orders, and Contactless Parking Lot Pickup. Order online 24 hours a day.
**Free Local Area Delivery on Tuesday and Friday**
Please Note: Many of the high demand books that say 'On our Shelves Now' are on hold for other customers. You can place an order and we will let you know when they come back in stock. Thank you for your patience.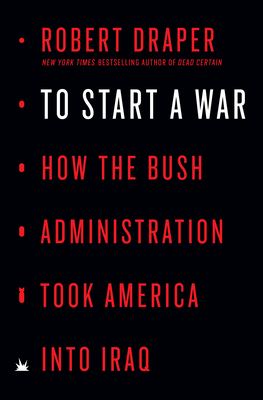 List Price: $30.00
Our Price: $27.00
(Save: $3.00 10%)
Description
---
"Authoritative . . . The most comprehensive account yet of that smoldering wreck of foreign policy, one that haunts us today." -Los Angeles Times

"A timely reminder of the dangers of embarking upon wars that can imperil America itself." -The New York Times

From the author of the New York Times bestseller Dead Certain comes the definitive, revelatory reckoning with arguably the most consequential decision in the history of American foreign policy--the decision to invade Iraq.

Even now, after more than fifteen years, it is hard to see the invasion of Iraq through the cool, considered gaze of history. For too many people, the damage is still too palpable, and still unfolding. Most of the major players in that decision are still with us, and few of them are not haunted by it, in one way or another. Perhaps it's that combination, the passage of the years and the still unresolved trauma, that explains why so many protagonists opened up so fully for the first time to Robert Draper.

Draper's prodigious reporting has yielded scores of consequential new revelations, from the important to the merely absurd. As a whole, the book paints a vivid and indelible picture of a decision-making process that was fatally compromised by a combination of post-9/11 fear and paranoia, rank naïveté, craven groupthink, and a set of actors with idées fixes who gamed the process relentlessly. Everything was believed; nothing was true. The intelligence failure was comprehensive. Draper's fair-mindedness and deep understanding of the principal actors suffuse his account, as does a storytelling genius that is close to sorcery. There are no cheap shots here, which makes the ultimate conclusion all the more damning. In the spirit of Barbara Tuchman's The Guns of August and Marc Bloch's Strange Defeat, To Start A War will stand as the definitive account of a collective process that arrived at evidence that would prove to be not just dubious but entirely false, driven by imagination rather than a quest for truth--evidence that was then used to justify a verdict that led to hundreds of thousands of deaths and a flood tide of chaos in the Middle East that shows no signs of ebbing.
About the Author
---
Robert Draper is a writer at large for the New York Times Magazine and a contributing writer to National Geographic. He is the author of several books, including the New York Times bestseller Dead Certain: The Presidency of George W. Bush. He lives in Washington, DC.
Praise For…
---
"The serial mistruths, mistakes and misperceptions about Iraq's supposed weapons of mass destruction and alleged support for Al Qaeda are laid out in devastating detail in Robert Draper's authoritative new book, To Start a War: How the Bush Administration Took America Into Iraq . . . Draper has written a compelling narrative of just how calamitous an ideology-first approach to fact-finding can be in the White House, and why Americans were so badly deluded. . . . the most comprehensive account yet of that smoldering wreck of foreign policy, one that haunts us today." —Los Angeles Times
 
"Draper has performed prodigious research, including conducting interviews with several hundred former national security officials and scrutinizing recently declassified government documents. . . [He] offers the most comprehensive account of the administration's road to war . . . Draper provides a timely reminder of the dangers of embarking upon wars that can imperil America itself." —New York Times

"Watching Bush make oil portraits, weep at funerals, condemn police brutality, and slip mints to Michelle Obama, it's easy to forget why Bush left office in 2009 as the least popular president since Richard Nixon. Robert Draper's marvelous new book, To Start a War, brings it all rushing back. . .  Drawing on declassified documents and hundreds of hours of interviews with key insiders. . . Draper delivers a scathing portrait . . . [with] exquisite narrative pacing." —Air Mail

"Compelling and richly documented . . . As we continue to live through the ripple effects of this momentous decision in American foreign policy, Draper's revelatory account deserves a wide readership." —BookPage 

"This authoritative investigation of how critical foreign policy should not be made. . . the definitive contemporary account of the origins of the War in Iraq." —Library Journal (starred review)

"Engrossing . . . Draper's psychological insights, well-crafted narrative, and colorful details spotlight the human complexity behind this tragic episode. The history of the Iraq War has rarely been told with so much authority and precision." —Publishers Weekly (starred review)

"An authoritative account of the background to the 2003 invasion of Iraq. . . The true believers got everything wrong. . . Today, almost everyone has changed their minds, and the trillions of dollars wasted would be useful right now. A painful yet gripping, essential account of a disastrous series of decisions." —Kirkus (starred review)
 
"A piercing, unprecedented account by one of the great journalists of our time about the George W. Bush administration's chaotic decisions and indecisions, the people who tried to keep us out and the charlatans who snookered others that led to the most consequential foreign policy fiasco in modern history." —Elizabeth Drew, author of fourteen books, including Politics and Money: The New Road to Corruption and Washington Journal: Reporting Watergate and Richard Nixon's Downfall

"The full measure of America's misadventure in Iraq has finally been weighed in this wise, unsparing, and invaluable narrative. Deeply researched and crisply written, To Start a War stands among the best works of history in modern times." —Lawrence Wright, author, The End of October