Brown Album: Essays on Exile and Identity (Paperback)
*USPS shipping is taking up to 2-3 weeks instead of 2-7 days, please consider contactless Parking Lot Pickup if you are in the area.
Please Note: Most of the anti-racism books that say 'on our shelves now' are on hold already for customers. We are hoping that they will be back in stock at the warehouse around the middle of June. Thank you for your patience.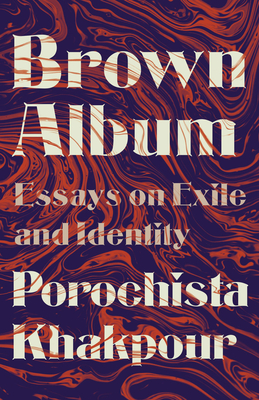 List Price: $16.00
Our Price: $14.40
(Save: $1.60 10%)
Description
---
*A Vintage Original*
From the much-acclaimed novelist and essayist, a beautifully rendered, poignant collection of personal essays, chronicling immigrant and Iranian-American life in our contemporary moment.

Novelist Porochista Khakpour's family moved to Los Angeles after fleeing the Iranian Revolution, giving up their successes only to be greeted by an alienating culture. Growing up as an immigrant in America means that one has to make one's way through a confusing tangle of conflicting cultures and expectations. And Porochista is pulled between the glitzy culture of Tehrangeles, an enclave of wealthy Iranians and Persians in LA, her own family's modest life and culture, and becoming an assimilated American. Porochista rebels--she bleaches her hair and flees to the East Coast, where she finds her community: other people writing and thinking at the fringes. But, 9/11 happens and with horror, Porochista watches from her apartment window as the towers fall. Extremism and fear of the Middle East rises in the aftermath and then again with the election of Donald Trump. Porochista is forced to finally grapple with what it means to be Middle-Eastern and Iranian, an immigrant, and a refugee in our country today.
     Brown Album is a stirring collection of essays, at times humorous and at times profound, drawn from more than a decade of Porochista's work and with new material included. Altogether, it reveals the tolls that immigrant life in this country can take on a person and the joys that life can give.
About the Author
---
Porochista Khakpour's debut novel, Sons and Other Flammable Objects, was a New York Times Editor's Choice, one of the Chicago Tribune's Fall's Best, and the 2007 California Book Award winner in the First Fiction category. Her second novel The Last Illusion was a 2014 "Best Book of the Year" according to NPR, Kirkus Reviews, BuzzFeed, PopMatters, Electric Literature, and many more. Among her many fellowships is a National Endowment for the Arts award. Her nonfiction has appeared in many sections of The New York Times, the Los Angeles Times, Elle, Slate, Salon, and Bookforum, among many others. She has been guest faculty at VCFA and Stonecoast's MFA programs, as well as Contributing Editor at Evergreen Review. Born in Tehran and raised in the Los Angeles area, Khakpour currently lives in New York City.
Praise For…
---
"In this stirring collection of essays, Khakpour explores her life as a writer and her American experience as an Iranian immigrant, touching on the personal and the political with equal grace."
—USA Today
 
"A moving collection of personal essays centering the Iranian American and immigrant experience today."
—Ms. Magazine, May 2020 Reads for the Rest of Us 
 
"Spanning more than a decade, the Iranian-American novelist and memoirist reflects on assimilation and the burdens of being Middle Eastern in today's America."
—The New York Times Book Review
 
"A collection that is by turns raw and wry, witty, and heartbreaking. Above all, it is a fearless reflection of an immigrant searching for home and for herself."
—Ploughshares 
 
"[Khakpour's] work is much more expansive than the white literary imagination would have us believe, and this sharp collection of 23 essays is evidence of that."
—Bitch Magazine, 13 Books Feminists Should Read in May
 
"Marked by her strong voice, relentless pursuit of honesty, and damnation of conventional narratives."
—The Adroit Journal
 
"The marvelous essays in Khakpour's collection blend together to form a memoir.... [Khakpour] writes with wit and charm."
—The National Book Review

"This collection of essays by novelist Porochista Khakpour thoughtfully illustrates what it's like to be caught between cultures. Brown Album, which compiles more than 10 years of Khakpour's work, analyzes her identities as both an Iranian-American and as a writer. The pieces range in subject, from the process of writing a novel to the aftermath of President Trump's election, but all provide fresh insight into one woman's experience as an immigrant in the U.S."
—Time, Books You Should Read in May
 
"Provocative pieces that detonate many notions of identity."
—Kirkus, Best Books for May

"[Khakpour] documents her survival of white America as an Iranian American; yet, Khakpour seems to ask on every page: Is this all survival is?.... A triumphant entry in the personal essay canon."
—Library Journal, *starred*

"In this wonderful essay collection, novelist Khakpour (The Last Illusion) passionately adn wittily explores the writing life and the Iranian-American experience.... Passionate and enlightening."
—Publishers Weekly, *starred*

Incisive.... About which stories we chose to tell about ourselves, and about being brown in a country more blindingly white under Donald Trump.... Provocative pieces that detonate many notions of identity."
—Kirkus Reviews, *starred*

"Confusing, exhilarating, terrifying, sad, scary, magical.... This book was balm to my Turkish-American soul, and to my cosmopolitan-writer-beyond-nationalism soul. Every page is overflowing with verve and insight and hilarity and brilliance and sadness and historical and cultural specificity. Porochista Khakpour is a treasure."
—Elif Batuman, author of The Idiot

  "Porochista Khakpour writes with incandescent gusto! This is an 'album' that masterfully makes use of a full array of styles--political analysis, pop and fashion appreciation, and personal essay. Brown Album is a vital and beautiful book for these days of ugly xenophobia and paranoia."
—Mona Eltahawy, author of The Seven Necessary Sins for Women and Girls

 "The legendary Porochista Khakpour has created a rigorous, poetic and biting exploration of what it means to be brown, Iranian, female and American in a United States that has spent the last few decades putting these identities under siege."
—Molly Crabapple, author of Drawing Blood, Brothers of the Gun with Marwan Hisham
 
"Splendidly elegant.... A fluid collection of essays that reads like a memoir, it targets—with devastating precision—the internal conflicts, turmoil and sometime agony of being the 'other' in an America that has always been, and is perhaps more so today."
—Hooman Majd, author of New York Times bestseller The Ayatollah Begs to Differ
 
"Brilliant.... What I love most about Porochista Khakpour's writing is her voice: always direct, always passionate, always clear and brave, full of compassion and vulnerability, always open to the world. Brown Album is both a manifesto of survival and a lyric journey."
—Ilya Kaminsky, author of Deaf Republic and Dancing in Odessa