The Body in Question: A Novel (Vintage Contemporaries) (Paperback)
*USPS shipping is taking up to 2-3 weeks instead of 2-7 days, please consider contactless Parking Lot Pickup if you are in the area.
Please Note: Most of the anti-racism books that say 'on our shelves now' are on hold already for customers. We are hoping that they will be back in stock at the warehouse around the middle of June. Thank you for your patience.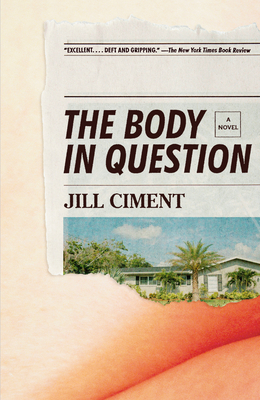 List Price: $15.00
Our Price: $13.50
(Save: $1.50 10%)
Description
---
*** NEW YORK TIMES 100 NOTABLE BOOKS OF THE YEAR ***

A 52 year-old photographer and a 41 year-old anatomy professor are jurors sequestered during a sensational three-week trial: a toddler murdered by one of his twin sisters. At the court appointed cut-rate motel off the interstate, they fall into an intense, furtive affair, but it is only during deliberations that the lovers learn they are on opposing sides of the case. Suddenly they look at one another through an altogether different lens. After the trial, the photographer returns to her much older husband amidst an ongoing media frenzy over the case. But the judge has received an anonymous letter about the affair, and she is preparing to release the jurors names. From that point on, the photographer's "one last dalliance before she is too old" takes on profoundly personal and moral consequences, as The Body in Question moves to its affecting, powerful, and surprising conclusion.
About the Author
---
JILL CIMENT was born in Montreal, Canada. She has received many grants and awards, among them a National Endowment for the Arts fellowship, two New York Foundation for the Arts fellowships, the Janet Heidinger Kafka Prize, and a Guggenheim fellowship. A professor at the University of Florida, she lives in Gainesville, Florida, and Brooklyn, New York.
Praise For…
---
"A fantastic rendering of female desire . . . Few writers can tackle the bedroom—or female libido . . . but Ciment is a master: in exquisitely spare prose, she nails it." 
—Penelope Green, The New York Times

"[The] deft orchestration of absurdity and existential dread distinguishes Ciment's style. That's why the situation of Ciment's latest novel, The Body in Question, is so perfectly suited to her powers as a novelist . . . incisive . . . a profound story about mortality and the mysteries of human behavior . . . smart and disturbing." 
—Maureen Corrigan, NPR
"Engaging, empathetic . . . This honest, mature look at life and love adds to a growing body of evidence leading to a decisive verdict: Ciment is an author well worth reading." 
—Kirkus (starred review)
"Stark and absorbing . . . scathingly funny . . . a smart, compact, refreshingly unsentimental exploration of the persistence of desire amid the fact of death." 
— The Wall Street Journal
"Excellent . . . short and brisk, propelled by the suspense of multiple questions . . . deft and gripping."
—Curtis Sittenfeld, The New York Times
 
"Stunningly concise. . . . Pulled me in right off the first page. It's a bravura performance, Ciment exercising almost flamboyant control of her material."
—Emily Donaldson, The Globe and Mail (Canada)
 
"Ciment . . . a virtuoso of the situational novel, has created a hypnotizing, forked tale of trust and guilt, masks and doubling, lies and desire, life and death."
—Booklist
 
"Intriguing, swift-moving. . . . This novel will hook readers with its powerful, magnetic narrative."
—Publishers Weekly

"This book's lean style and cool tone shape an unsentimental story with unexpected depths. . . . Ciment gives her story a series of wicked twists, some thrilling, some heart-wrenching."
—The Tampa Bay Times