Jasper & Ollie Build a Fort (Hardcover)
We are available Monday to Saturday 10:00 a.m. to 5:00 p.m. for Limited Browsing, Order Pickup, Phone Orders, and Contactless Parking Lot Pickup. Order online 24 hours a day.
**Free Local Area Delivery on Tuesday and Friday**
*USPS shipping is taking up to 2-3 weeks instead of 2-7 days, please consider contactless Parking Lot Pickup if you are in the area.
Please Note: Many of the high demand books that say 'On our Shelves Now' are on hold for other customers. We are hoping that they will be back in stock at the warehouse around the middle of June. Thank you for your patience.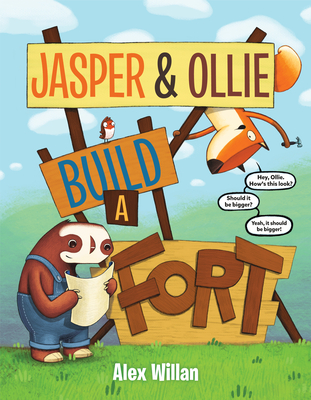 List Price: $17.99
Our Price: $16.19
(Save: $1.80 10%)
Description
---
Celebrate the wonderful (and hilarious) ways in which friends can be different in this all-new, laugh-out-loud odd-couple story.

Best friends Jasper, a quick and feisty fox, and Ollie, a slow and deliberate sloth, decide to build forts in the yard. While Jasper's enormous fort goes up in minutes (complete with a rock climbing wall, bouncy, castle, and moat), it's Ollie's humble fort that has what the pair need most . . . a place that they can share.

This highly visual story allows young readers to easily recognize the differences between the two pals, as Jasper's increasingly frenzied building contrasts with Ollie's more reserved and planned approach. It's a smartly paced, hugely funny celebration of our differences. Kids AND grown-ups will giggle as they decide if they're more of a "Jasper" or an "Ollie." Which one are you?

Parents will also appreciate the subtle lesson of mindfulness, told with humor, as impatient Jasper comes to understand that being first and fastest isn't always best.

Also available:
Jasper and Ollie 
About the Author
---
ALEX WILLAN is the author and illustrator of Jasper & Ollie and its sequel, Jasper & Ollie Build a Fort. Alex grew up in Louisville, Kentucky, where he was seldom seen without his sketchbook in hand. His love of drawing led him to earn a BFA in illustration from Savannah College of Art and Design. Alex has exhibited in art galleries and has painted murals, theater sets, and squirmy kids' faces, but his true love has always been children's books. He lives in Chicago with his dog, Harley. See more of his work at alexwillan.com, and follow him on Instagram at @alexwillan.
Praise For…
---
"This is a rollicking story of two endearing friends pitted against each other in a comical non-competition, and readers, having recognized all along that this was never really a contest, will chuckle over Jasper's raucous antics. . . . Friends build a fort and an even stronger relationship."—Kirkus

"The fable of "The Tortoise and the Hare" gets a lively new spin in Willan's second Jasper & Ollie adventure. . . . The odd-couple friendship and the cozy conclusion will leave readers feeling just right."—Booklist