Redhead by the Side of the Road: A novel (Hardcover)
*USPS shipping is taking up to 2-3 weeks instead of 2-7 days, please consider contactless Parking Lot Pickup if you are in the area.
Please Note: Most of the anti-racism books that say 'on our shelves now' are on hold already for customers. We are hoping that they will be back in stock at the warehouse around the middle of June. Thank you for your patience.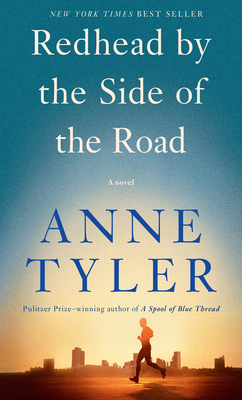 List Price: $26.95
Our Price: $24.26
(Save: $2.70 10%)
Description
---
INSTANT NEW YORK TIMES BEST SELLER

"If ever there was a perfect time for a new Anne Tyler novel, it's now." —People 
"Tyler's novels are always worth scooping up—but especially this gently amusing soother, right now." —NPR

From the beloved Anne Tyler, a sparkling new novel about misperception, second chances, and the sometimes elusive power of human connection.

Micah Mortimer is a creature of habit. A self-employed tech expert, superintendent of his Baltimore apartment building, cautious to a fault behind the steering wheel, he seems content leading a steady, circumscribed life. But one day his routines are blown apart when his woman friend (he refuses to call anyone in her late thirties a "girlfriend") tells him she's facing eviction, and a teenager shows up at Micah's door claiming to be his son. These surprises, and the ways they throw Micah's meticulously organized life off-kilter, risk changing him forever. An intimate look into the heart and mind of a man who finds those around him just out of reach, and a funny, joyful, deeply compassionate story about seeing the world through new eyes, Redhead by the Side of the Road is a triumph, filled with Anne Tyler's signature wit and gimlet-eyed observation.
About the Author
---
ANNE TYLER was born in Minneapolis, Minnesota, in 1941 and grew up in Raleigh, North Carolina. She is the author of more than twenty novels. Her twentieth novel, A Spool of Blue Thread, was shortlisted for the Man Booker Prize in 2015. Her eleventh novel, Breathing Lessons, was awarded the Pulitzer Prize in 1989. She is a member of the American Academy of Arts and Letters. She lives in Baltimore, Maryland.
Praise For…
---
"Anne Tyler has every gift a great novelist needs: intent observation, empathy and language both direct and surprising. She has unembarrassed goodness as well. In this time of snark, preening, sub-tweeting and the showy torment of characters, we could use more Tyler." —Amy Bloom, New York Times Book Review

"If ever there was a perfect time for a new Anne Tyler novel, it's now—and this one doesn't disappoint . . . Heartwarming and very funny—one of Tyler's best yet." —People (book of the week)

"Anne Tyler could make even quarantined lives feel expansive and lovely . . . Though we have stripped our daily rituals down to their bare essentials, we remain as big and as loving and as scared and as frustratingly human as we were before the world outside screeched to a halt. Redhead by the Side of the Road is a delicate and moving reminder of this, and proves Tyler's voice remains as vital as ever." —Vanity Fair
 
"Tyler's novels are always worth scooping up—but especially this gently amusing soother, right now, when all of our cherished routines have been disrupted." —NPR

"Entrancing . . . Tyler is an American Vermeer whose canvases keep opening whole worlds within compact frames . . . As novelist Marilynne Robinson has observed, 'realism has been so predominant a literary style 'that it is easy to forget it is a style.' One of its flawless practitioners is Anne Tyler, whose fiction maps the sea changes of her characters in carefully calibrated, deceptively understated prose . . . Tyler is a keen-eyed but tenderhearted social observer."—Hamilton Cain, O Magazine
 
"Affecting . . . Tyler has the rare ability to evoke the ordinary with particularity."—The New Yorker

 "There's always good reason to celebrate a new Anne Tyler novel, and Redhead by the Side of the Road warrants popping open the champagne . . . Who else can make words sparkle with humor and tenderness in quite this way? . . . Hilarious and poignant . . . Shows the author at the top of her form." —Boston Globe

"Anne Tyler, she knows what she's doing. You feel very taken care of when you're reading an Anne Tyler book."—Ann Patchett, Wisconsin Public Radio
 
"Anne Tyler may, in the end, prove to be one of the most influential novelists of her generation . . . Her books are so irresistibly readable that it's startling to realise what technical marvels they often are." —Daily Telegraph
 
"If, in December, we might sing, 'We need a little Christmas right this very minute,' in pandemic panic we might warble that we need or could surely use a little Anne Tyler." —Pittsburgh Post-Gazette
 
"It moves so quickly and seamlessly . . . Poignant." —Minneapolis Star Tribune
 
"Reading Anne Tyler is always pure pleasure, and Redhead by the Side of the Road is the author at her best. This joyful book is a powerful reminder of how much we need human connection." —BookPage (starred)

"Another gem from Anne Tyler . . . This is her best novel in some time . . . Tyler has won so many plaudits over the past 50 odd years that it's hard to think of new superlatives to add . . .  Tyler's ability to make you care about her characters is amazing, and never more so than here." —Observer (UK) 

"Tyler's warmly comedic, quickly read tale, a perfect stress antidote, will delight her fans and provides an excellent 'first' for readers new to this master of subtle and sublime brilliance . . . Perfectly modulated, instantly enmeshing, heartrending, funny, and redemptive." —Booklist
 
"A fully realised world full of dry humour . . . Each character is deftly drawn in a few lines." —The Times (UK)
 
"A brilliantly detailed, tender depiction of one man's regrettable way of living . . . Brings plenty of funny, relatable scenarios." —Irish Times

"Delightful . . . Tyler is a magician . . . You finish her novels feeling closer to life, and closer to other people."—Craig Brown, Mail on Sunday (UK)
 
"Both moving and comforting in our time of greater crises . . . Tyler's writing is so expertly nuanced and honest that she carries us into these fictional strangers' lives as if they really matter."—Sydney Morning Herald
 
"Tyler succeeds by gifting fans with Micah, yet another in her unique and memorable list of characters. Redhead by the Side of the Road is simply a delight . . . Tyler makes her craft look easy again."—The Missourian
 
"Pitch-perfect . . . Tyler is now, as she has long been, at the height of her powers."—Washington City Paper
 
"A work that makes you want to live more attentively . . . [Tyler's characters] are imagined with a curiosity and compassion seldom found in contemporary prose."—Financial Times
 
"What a joy it is to open a new novel from Anne Tyler . . . The qualities that have served her and her readers so well are still strong in her fiction—telling details, realistic dialogue and interactions, the rare ability to look at 'ordinary' people and find rich depths of humanity that enlighten us all. She presents all this with just the right mix of humor and pathos. It's no wonder her books ring true to so many people."—Greensboro News & Record (North Carolina)
 
"Exquisite . . . Tyler's wit and humanity seem to be as vigorous as ever."—Anniston Star (Alabama)

"There's warmth, wisdom, and a wealth of brilliantly caught characters in Anne Tyler's cheering new novel ." —Sunday Times (UK)

"Characteristically tender . . . Suffused with feeling and very moving."—Kirkus Reviews (starred)