Harry Potter Special Edition Paperback Boxed Set: Books 1-7 (Multiple copy pack)
We are available Monday to Saturday 10:00 a.m. to 6:00 p.m. for Limited Browsing, Order Pickup, Phone Orders, and Contactless Parking Lot Pickup. Order online 24 hours a day.
**Free Local Area Delivery on Tuesday and Friday**
Please Note: Many of the high demand books that say 'On our Shelves Now' are on hold for other customers. You can place an order and we will let you know when they come back in stock. Thank you for your patience.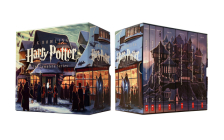 $100.00
Sold Out--Can order from warehouse
Staff Reviews
---
One of Andrew's 5 Favorite Children's Books
Description
---
The perfect gift for collectors and new readers alike, we now present a breathtaking special edition boxed set of J. K. Rowling's seven bestselling Harry Potter books!
The box itself is beautifully designed with new artwork by Kazu Kibuishi, and the books create a gorgeous, magical vista when the spines are lined up together. The Harry Potter series has been hailed as "one for the ages" by Stephen King and "a spellbinding saga" by USA Today. Now is your chance to give this set to a reader who is ready to embark on the series that has changed so many young readers' lives.
About the Author
---
J.K. Rowling is the author of the seven Harry Potter books, first published between 1997 and 2007. The adventures of Harry, Ron, and Hermione at Hogwarts School of Witchcraft and Wizardry have sold over 500 million copies, been translated into over 80 languages, and made into eight blockbuster films. Alongside the book series, she has written three short companion volumes for charity, including Fantastic Beasts and Where to Find Them, which later became the inspiration for a new series of films, also written by J.K. Rowling. She then continued Harry's story as a grown-up in a stage play, Harry Potter and the Cursed Child, which she wrote with playwright Jack Thorne and director John Tiffany, and which has been playing to great acclaim in theatres in Europe, North America, and Australia.

J.K. Rowling has received many awards and honors for her writing. She also supports a number of causes through her charitable trust, Volant, and is the founder of the children's charity Lumos, which fights for a world without orphanages and institutions, and reunites families.

For as long as she can remember, J.K. Rowling has wanted to be a writer, and is at her happiest in a room, making things up. She lives in Scotland with her family.

Kazu Kibuishi is the creator of the #1 New York Times bestselling Amulet series, which is available in 16 languages. He is also the creator of Copper, a collection of his popular webcomic that features an adventuresome boy-and-dog pair. Kazu also illustrated the covers of the 15th anniversary paperback editions of the Harry Potter series written by J.K. Rowling. He lives and works near Seattle, Washington, with his wife, Amy Kim Kibuishi, and their children. Visit Kazu online at boltcity.com