Lost in the Pacific, 1942: Not a Drop to Drink (Lost #1) (Hardcover)
We are available Monday to Saturday 10:00 a.m. to 5:00 p.m. for Limited Browsing, Order Pickup, Phone Orders, and Contactless Parking Lot Pickup. Order online 24 hours a day.
**Free Local Area Delivery on Tuesday and Friday**
*USPS shipping is taking up to 2-3 weeks instead of 2-7 days, please consider contactless Parking Lot Pickup if you are in the area.
Please Note: Many of the high demand books that say 'On our Shelves Now' are on hold for other customers. We are hoping that they will be back in stock at the warehouse around the middle of June. Thank you for your patience.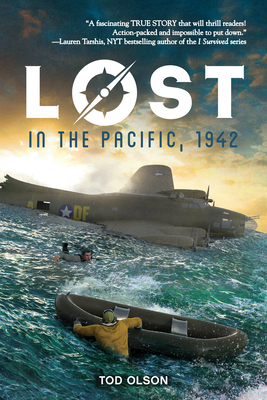 List Price: $14.99
Our Price: $13.49
(Save: $1.50 10%)
Sold Out--Can order from warehouse
Description
---
LOST IN THE PACIFIC is the first book in a new narrative nonfiction series that tells the true story of a band of World War II soldiers who became stranded at sea and had to fight for survival.
World War II, October 21, 1942. A B-17 bomber drones high over the Pacific Ocean, sending a desperate SOS into the air. The crew is carrying America's greatest living war hero on a secret mission deep into the battle zone. But the plane is lost, burning through its final gallons of fuel.

At 1:30 p.m., there is only one choice left: an emergency landing at sea. If the crew survives the impact, they will be left stranded without food or water hundreds of miles from civilization.

Eight men. Three inflatable rafts. Sixty-eight million square miles of ocean. What will it take to make it back alive?
About the Author
---
Tod Olson is the author of the Lost series, the How to Get Rich historical fiction series, and numerous books for the school/library and classroom markets. He has written for national magazines on the Columbine school shooting, homeless teens, the murder of Matthew Shepard, and many other stories of interest to children and young adults. During his 25 years in children's publishing, he has edited and developed several collections of books for both school/library and the classroom. Tod holds an MFA from Vermont College.
Praise For…
---
Praise for Lost in the Pacific, 1942: Not a Drop to Drink

* "A riveting, completely engrossing true survival story. " -- Kirkus Reviews, starred review