The Elephant's Girl (Hardcover)
*USPS shipping is taking up to 2-3 weeks instead of 2-7 days, please consider contactless Parking Lot Pickup if you are in the area.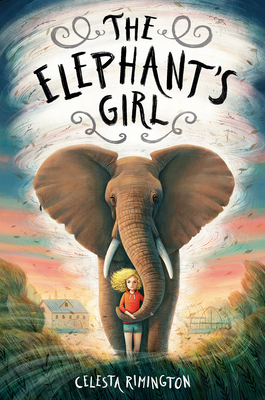 List Price: $16.99
Our Price: $15.29
(Save: $1.70 10%)
Description
---
A magical adventure about a girl with a mysterious connection with the elephant who saved her life, for fans of Katherine Applegate and Jennifer Holm.

An elephant never forgets, but Lexington Willow can't remember what happened before a tornado swept her away when she was a toddler. All she knows is that it landed her near an enclosure in a Nebraska zoo; and there an elephant named Nyah protected her from the storm. With no trace of her birth family, Lex grew up at the zoo with Nyah and her elephant family; her foster father, Roger; her best friend, Fisher; and the wind whispering in her ear.

Now that she's twelve, Lex is finally old enough to help with the elephants. But during their first training session, Nyah sends her a telepathic image of the woods outside the zoo. Despite the wind's protests, Lex decides to investigate Nyah's message and gets wrapped up in an adventure involving ghosts, lost treasure, and a puzzle that might be the key to finding her family. As she hunts for answers, Lex must summon the courage to leave the secure borders of her zoo to discover who she really is--and why the tornado brought her here all those years ago.
About the Author
---
Celesta Rimington is an elephant advocate, a musical theater performer, and an active participant in her local writing community. As a teenager, she worked at a zoo in Omaha, which is part of the reason she set her story in Nebraska. She now lives in Utah with her husband and two children, where they have a miniature railroad with a rideable steam train.
celestarimington.com
Praise For…
---
"Mixing realism, fantasy, and information about elephants, the author presents well-rounded, often mischievous human characters, and the unlikely focal setting of the zoo entices readers to fantasize about living there. Lex's investigation reveals a puzzle that may contain answers about her past, and readers will eagerly accompany her as she works to crack it." -Booklist

"Poignant...An already engaging tale of life at a zoo turns into a mystery...[and] a bittersweet ending completes the story's magic and mystery." --Kirkus Reviews

"Skillfully paced with just the right amount of tension, this offers a thoughtful look at how our past shapes our present, and how, similarly, memory is shaped by our current circumstances." --Bulletin

"This story of friendship includes magical realism, mystery, and adventure that is sure to capture young readers' attention. Perfect for fans of Kate DiCamillo." --School Library Journal