Big Shark, Little Shark, Baby Shark (Step into Reading) (Paperback)
We are available Monday to Saturday 10:00 a.m. to 5:00 p.m. for Limited Browsing, Order Pickup, Phone Orders, and Contactless Parking Lot Pickup. Order online 24 hours a day.
**Free Local Area Delivery on Tuesday and Friday**
*USPS shipping is taking up to 2-3 weeks instead of 2-7 days, please consider contactless Parking Lot Pickup if you are in the area.
Please Note: Many of the high demand books that say 'On our Shelves Now' are on hold for other customers. We are hoping that they will be back in stock at the warehouse around the middle of June. Thank you for your patience.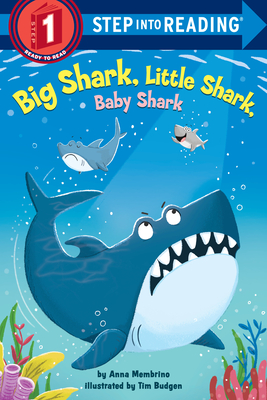 List Price: $4.99
Our Price: $4.49
(Save: $0.50 10%)
Description
---
Just when you thought it was safe...Big Shark and Little Shark return in this funny new Step 1 Reader, pursued by...Baby Shark!

Big Shark and Little Shark may be opposites, but they agree on one thing--neither wants to play with Baby Shark. Baby Shark is too small and slow to be any fun...right? What happens when Mommy Shark, Daddy Shark, Grandpa Shark, and Grandma Shark find out that Baby Shark is being snubbed? Dun dun dun dun dun dun! All's well that ends well in this easily decodable and oh-so-familiar story of big kids and little kids resolving their conflicts. The book conveys a great social-emotional lesson about apologizing and inclusion in a funny way! Look for these other funny stories: Big Shark, Little Shark and Big Shark, Little Shark Go to School.

Step 1 Readers feature big type and easy words for children who know the alphabet and are eager to begin reading. Rhyme and rhythmic text paired with picture clues help children decode the story.
About the Author
---
ANNA MEMBRINO is an editor, writer, and Ultimate Frisbee player. She is the author of I Want to Be a Ballerina; Big Shark, Little Shark; and the I Look Up to... series. Anna lives in New York City.

TIM BUDGEN was born in Surrey, England, and is a freelance illustrator and art teacher. For much of his life, he has been scribbling down ideas, and he can usually be found with a pencil in one hand and a sketchbook in the other! This is his first book for Random House. He lives on an island off the coast of England, and surely there are sharks in the waters!