The Queen's Fortune: A Novel of Desiree, Napoleon, and the Dynasty That Outlasted the Empire (Hardcover)
We are available Monday to Saturday 10:00 a.m. to 5:00 p.m. for Limited Browsing, Order Pickup, Phone Orders, and Contactless Parking Lot Pickup. Order online 24 hours a day.
**Free Local Area Delivery on Tuesday and Friday**
Please Note: Many of the high demand books that say 'On our Shelves Now' are on hold for other customers. You can place an order and we will let you know when they come back in stock. Thank you for your patience.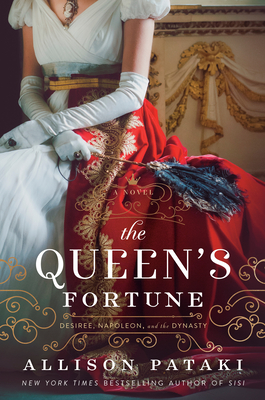 List Price: $28.00
Our Price: $25.20
(Save: $2.80 10%)
Sold Out--Can order from warehouse
Staff Reviews
---
"The Queen's Fortune is the story of a remarkable young woman, Desiree Clary, who comes of age during the French Revolution. She secretly becomes engaged to Napoleon Bonaparte until Josephine de Beauharvais comes into his life, changing the course of history for all involved. Desiree marries Napoleon's best sergeant Jean-Baptiste Bernadette. It's then that life's choices draw all of them into once unthinkable directions."
Description
---
A sweeping novel about the extraordinary woman who captured Napoleon's heart, created a dynasty, and changed the course of history—from the New York Times bestselling author of The Traitor's Wife, The Accidental Empress, and Sisi.

As the French revolution ravages the country, Desiree Clary is faced with the life-altering truth that the world she has known and loved is gone and it's fallen on her to save her family from the guillotine.

A chance encounter with Napoleon Bonaparte, the ambitious and charismatic young military prodigy, provides her answer. When her beloved sister Julie marries his brother Joseph, Desiree and Napoleon's futures become irrevocably linked. Quickly entering into their own passionate, dizzying courtship that leads to a secret engagement, they vow to meet in the capital once his career has been secured. But her newly laid plans with Napoleon turn to sudden heartbreak, thanks to the rising star of Parisian society, Josephine de Beauharnais. Once again, Desiree's life is turned on its head.

Swept to the glittering halls of the French capital, Desiree is plunged into the inner circle of the new ruling class, becoming further entangled with Napoleon, his family, and the new Empress. But her fortunes shift once again when she meets Napoleon's confidant and star general, the indomitable Jean-Baptiste Bernadotte. As the two men in Desiree's life become political rivals and military foes, the question that arises is: must she choose between the love of her new husband and the love of her nation and its Emperor?

From the lavish estates of the French Riviera to the raucous streets of Paris and Stockholm, Desiree finds herself at the epicenter of the rise and fall of an empire, navigating a constellation of political giants and dangerous, shifting alliances. Emerging from an impressionable girl into a fierce young woman, she discovers that to survive in this world she must learn to rely upon her instincts and her heart.

Allison Pataki's meticulously researched and brilliantly imagined novel sweeps readers into the unbelievable life of a woman almost lost to history—a woman who, despite the swells of a stunning life and a tumultuous time, not only adapts and survives but, ultimately, reigns at the helm of a dynasty that outlasts an empire.
About the Author
---
Allison Pataki is the New York Times bestselling author of The Queen's Fortune, The Traitor's Wife, The Accidental Empress, Sisi: Empress On Her Own, Where the Light Falls, as well as the nonfiction memoir Beauty in the Broken Places and two children's books, Nelly Takes New York and Poppy Takes Paris. Her novels have been translated into more than a dozen languages. A former news writer and producer, Pataki has written for The New York Times, ABC News, HuffPost, USA Today, Fox News, and other outlets. She has appeared on Today, Fox & Friends, Good Day New York, Good Day Chicago, and MSNBC's Morning Joe. Pataki graduated cum laude from Yale University with a major in English and spent several years in journalism before switching to fiction writing. A member of the Historical Novel Society, she lives in New York with her husband and family.
Praise For…
---
"This impeccably researched, expertly rendered historical from Pataki gloriously re-creates the personal dramas surrounding Napoleon Bonaparte. . . . Pataki's skill in chronicling Napoleon's transformation from an idealistic young soldier to a ruthless, callous leader drives the story, and her sumptuous scenes allow the reader to easily examine the political machinations and extreme luxury of the monarchy. Readers who enjoy Elizabeth Chadwick will want to take a look."—Publishers Weekly

"Pataki's ability to flesh out imperial grandeur and foibles with telling detail, on full display in her Habsburg novels, is equally evident here."—Kirkus Reviews

"In The Queen's Fortune, Allison Pataki chronicles Desiree, the secret lover of Napoleon Bonaparte. When Napoleon chooses Josephine over her, the heartbroken Desiree finds herself entangled with Napoleon, Josephine and the new ruling class. Pataki deftly weaves a tangled web of passion, deception and intrigue, set against one of the most tumultuous periods in history, making for a heady cocktail which readers will devour."—Pam Jenoff,  New York Times bestselling author of The Lost Girls of Paris

"I absolutely loved The Queen's Fortune, the fascinating, little-known story of Desiree Clary—the woman Napoleon left for Josephine—who ultimately triumphed and became queen of Sweden."—Martha Hall Kelly, New York Times bestselling author of Lost Roses and Lilac Girls

"Allison Pataki is a masterful historical author at the top of her game. From the very first lyrical lines of The Queen's Fortune, I was wholly swept into the entrancing world of Desiree Clary Bernadotte. Painstaking research and page-turning prose placed me directly at the side of this remarkable yet lesser-known figure, journeying from innocent girlhood to seasoned royalty, a survivor of guillotine threats, palace politics, and strains of the heart. I absolutely loved this book from beginning to end."—Kristina McMorris, New York Times bestselling author of Sold on a Monday and The Edge of Lost

"It's not everyone who's jilted by Napoleon and winds up queen of Sweden. Allison Pataki provides an intimate portrait of a tumultuous time—and of an ordinary woman who captivated two of the great men of her day and became the mother of a dynasty."—Lauren Willig, New York Times  bestselling author of The Summer Country

"History, romance, and the dangerous intrigue of revolution combine to make coming of age a high-stakes game in Allison Pataki's richly reimagined account of a woman seeking not only to manage her circumstances but to triumph over them and rise to the throne of a country that will become her own. This was a piece of history I knew very little about. Pataki's latest effort brings a fascinating time and place fully to life."—Lisa Wingate, #1 New York Times bestselling author of Before We Were Yours