Dog Training for Kids: Fun and Easy Ways to Care for Your Furry Friend (Paperback)
We will be closed on Saturday, July 4th in observance of Independence Day.
We are available Monday to Saturday 10:00 a.m. to 4:00 p.m. for Limited Browsing, Order Pickup, Phone Orders, and Contactless Parking Lot Pickup. Order online 24 hours a day.
**Free Local Area Delivery on Tuesday and Friday**
*USPS shipping is taking up to 2-3 weeks instead of 2-7 days, please consider contactless Parking Lot Pickup if you are in the area.
Please Note: Many of the high demand books that say 'On our Shelves Now' are on hold for other customers. We are hoping that they will be back in stock at the warehouse around the middle of June. Thank you for your patience.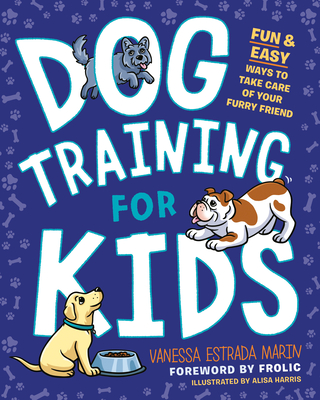 List Price: $15.95
Our Price: $14.36
(Save: $1.60 10%)
Description
---
Children Will Take the Lead with Fun & Easy Dog Training Techniques

Every child wants a dog, yet not every child--or even grown-up!--is equipped to take on the responsibilities that come with owning a dog. But with the help of Vanessa Estrada Marin, the director of a sought-after dog-training program for kids, your child will have fun being in charge!

Dog Training for Kids breaks down lessons and tutorials in simple steps and easy-to-follow instructions. Kids will have everything they need to be caring and responsible dog owners:

• Basic Training Lessons including Stopping Unnecessary Barking, Potty & House Training, Obedience, Leash Training, Crate Training

• Essential Commands including Sit, Stay, Heel, Drop It

• Clever Tricks including Roll Over, Speak, High Five, and Leap

• Super Fun Games including Obstacle Course, Frisbee, Tunnel

• And More -- Equipment List, How to Train Your Dog to Be Calm at the Vet, How to Dog Proof Your Home

Whether young dog lovers will be raising puppies, adopting rescues, or getting their first dogs, this all-in-one book will give them the confidence and knowledge to properly train, take care of, and establish a lasting bond with their well-behaved furry friends.
About the Author
---
• Vanessa Estrada Marin is the director at Frolic, a unique facility specializing in dog-centric programming for kids in New York City. Previously, she was an adoption center manager at North Shore Animal League America. She lives in Queens with her husband, Jorge, and their Chihuahua mix rescue Reyna.

• Frolic is a 1,500-square-foot space on the Upper East Side of Manhattan, where the interactive and educational are taken to a new level. Truly unique, Frolic is home to four friendly career change service dogs. Visitors come to meet Patience, Chichy, Huxley, and Murray while simultaneously learning about man's best friend from Frolic's dog-loving experts. Frolic supports the community through various after-school programs, camps, specialized courses such as Overcoming Fear of Dogs and Canine Companion (how to have/care for a dog), and birthday parties. Frolic also hosts special events held on-site and off-site. They have worked with Girl Scouts of America and various schools.


Praise For…
---
"A must read for kids thinking about getting a dog or puppy. An extremely informative guide for children that will set them up for success in understanding, caring for, and training their new best friend. One of a kind book!" —Kristin Sells, Senior Canine Behavior Counselor CPDT-KA, Biscuits & Bath NYC
 
"This book is written in a way that my child could follow along with the tutorials easily, especially when paired with the detailed illustrations. As a parent, I appreciate the positive language the author used to encourage children to be kind and patient with dogs as well as themselves."  —Celeste A. Ramirez, President and Owner of CARA Construction Management, mother of Catherine (11-year-old dog owner)
 
"My daughter is a dog lover, but not a fan of reading. She could not put this book down! My child has read it more than once because it doesn't feel like a boring manual, and there is so much to learn about dogs. I feel like now she knows more than most people do!" —Yuan Wang, mother of Siena (8-year-old dog owner)