Anxiety Relief for Teens: Essential CBT Skills and Mindfulness Practices to Overcome Anxiety and Stress (Paperback)
We are available Monday to Saturday 10:00 a.m. to 5:00 p.m. for Limited Browsing, Order Pickup, Phone Orders, and Contactless Parking Lot Pickup. Order online 24 hours a day.
**Free Local Area Delivery on Tuesday and Friday**
*USPS shipping is taking up to 2-3 weeks instead of 2-7 days, please consider contactless Parking Lot Pickup if you are in the area.
Please Note: Many of the high demand books that say 'On our Shelves Now' are on hold for other customers. We are hoping that they will be back in stock at the warehouse around the middle of June. Thank you for your patience.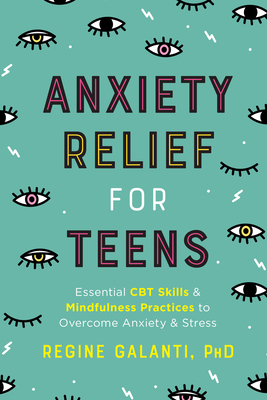 List Price: $17.99
Our Price: $16.19
(Save: $1.80 10%)
Description
---
Is anxiety disrupting your life? With proven CBT-based skills and mindfulness techniques, this book can be your guide out of the spiraling stress of anxiety and get you back on track to living a happy and healthy life.

Getting good grades, keeping up with social media, maintaining friendships... you have a lot on your plate and it's more difficult when you add anxiety to the mix. You may even be avoiding situations, events, or people that could trigger your anxiety. So, how do you stop yourself from missing out on life? With Anxiety Relief for Teens, Dr. Regine Galanti teaches you how CBT-based skills and mindfulness techniques can help you manage your anxiety and reverse negative patterns. Through simple and effective exercises that help you change your thoughts, behaviors, and physical reactions, this helpful guide gives you the tools you need to navigate all of life's challenges.

Anxiety Relief for Teens features:

• Quizzes and self-assessments to better understand your anxiety and emotions and discover their respective triggers.
• 30+ CBT-based tools to manage your anxiety along with practical strategies for dealing with challenging emotions such as anger and sadness.
• 30+ mindfulness practices to cope with your anxiety in the present moment through visualizations, breathing, meditation, and other exercises.<
About the Author
---
Regine Galanti, PhD, is a licensed clinical psychologist and the founder of Long Island Behavioral Psychology in Long Island, New York, where she brings warmth, sensitivity, and a tailored problem-solving approach to her practice. She specializes in cognitive behavioral therapy (CBT) and has expertise in obsessive-compulsive disorder, anxiety, parenting, and behavior problems. She applies short-term, evidence-based strategies to help young people change their thoughts and behaviors. Specifically, she uses exposure and related behavioral therapy techniques to help those living with anxiety face their fears so they can live happier, healthier lives.
Praise For…
---
"Anxiety Relief for Teens is a well-structured therapeutic guide, specially designed and written to address the complexity of young lives. Drawing from many corners of behavioral and cognitive therapies, Dr. Galanti discusses relatable aspects of teens' behavior, thinking, and emotional experience. Integrated throughout are numerous therapeutic morsels in the forms of quiz-type assessments, exercises, and tools to create real and lasting change in the reader. This book is great for teens as well as  clinicians working with teens." –Mitchell L. Schare, PhD, ABPP, Professor of Clinical Psychology, Hofstra University; Board Certified in Behavioral & Cognitive Therapies, American Board of Professional Psychology
 
"Anxiety Relief for Teens offers readers a toolbox from which they can choose what works.  Dr. Galanti intersperses definitions and context with games and practice, along with vignettes that give examples of what went right or wrong. Each of the exercises is presented cookbook style, like recipes with times needed and expected outcomes. The reader can take as little or as much as is comfortable, and walk away with useful steps to employ immediately; and since they're all small steps, triumph is on the next page." –David Teisler, CAE, Director of Communications and Deputy Executive Director at the Association for Behavioral and Cognitive Therapies
 
"Dr. Galanti's book, Anxiety Relief for Teens, is an invaluable resource for teens, young adults, parents, and clinicians, containing skills and exercises readers can immediately implement and use with great results. The language and diagrams throughout the book are clear and incredibly relevant, making it a unique contribution and a go-to book for clients and clinicians alike! There is a great need in today's high-pressure, high-speed world for young people to feel empowered to understand and manage their anxiety and fears so they can unleash and maximize their potential. I cannot wait to introduce this book to all of the teens, young adults, and colleagues in my life!" –Yael Muskat, PsyD, Director, Counseling Center, Yeshiva University