In the Hands of the People: Thomas Jefferson on Equality, Faith, Freedom, Compromise, and the Art of Citizenship (Hardcover)
We will be closed on Saturday, July 4th in observance of Independence Day.
We are available Monday to Saturday 10:00 a.m. to 4:00 p.m. for Limited Browsing, Order Pickup, Phone Orders, and Contactless Parking Lot Pickup. Order online 24 hours a day.
**Free Local Area Delivery on Tuesday and Friday**
*USPS shipping is taking up to 2-3 weeks instead of 2-7 days, please consider contactless Parking Lot Pickup if you are in the area.
Please Note: Many of the high demand books that say 'On our Shelves Now' are on hold for other customers. We are hoping that they will be back in stock at the warehouse around the middle of June. Thank you for your patience.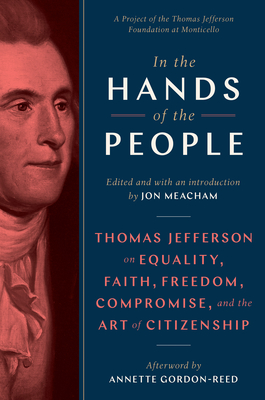 List Price: $24.00
Our Price: $21.60
(Save: $2.40 10%)
Description
---
Pulitzer Prize–winning historian Jon Meacham offers a collection of inspiring words about how to be a good citizen, from Thomas Jefferson and others, and reminds us why our country's founding principles are still so important today.

Thomas Jefferson believed in the covenant between a government and its citizens, in both the government's responsibilities to its people and also the people's responsibility to the republic. In this illuminating book, a project of the Thomas Jefferson Foundation at Monticello, the #1 New York Times bestselling author Jon Meacham presents selections from Jefferson's writing on the subject, with an afterword by Pulitzer Prize–winning historian Annette Gordon-Reed and comments on Jefferson's ideas from others, including Colin Powell, Madeleine Albright, Frederick Douglass, Carl Sagan, and American presidents.

This curated collection revitalizes how to see an individual's role in the world, as it explores such Jeffersonian concepts as religious freedom, the importance of a free press, public education, participation in government, and others.

Meacham writes, "In an hour of twenty-first-century division and partisanship, of declining trust in institutions and of widespread skepticism about the long-term viability of the American experiment, it is instructive to return to first principles. Not, to be sure, as an exercise in nostalgia or as a flight from the reality of our own time, but as an honest effort to see, as Jefferson wrote, what history may be able to tell us about the present and the future."
About the Author
---
Jon Meacham is the author of numerous New York Times bestsellers, including the Pulitzer Prize–winning biography American Lion: Andrew Jackson in the White House. He holds the Rogers Chair in the American Presidency and is a distinguished visiting professor at Vanderbilt University. A trustee of the Thomas Jefferson Foundation at Monticello and a fellow of the Society of American Historians, Meacham lives in Nashville.

Annette Gordon-Reed is the Charles Warren Professor of American Legal History at Harvard Law School and a professor of history in the Faculty of Arts and Sciences at Harvard University. She was awarded the Pulitzer Prize for History and the National Book Award for Nonfiction for her book The Hemingses of Monticello: An American Family. She is a member of the Board of Trustees of the Thomas Jefferson Foundation at Monticello. She lives in New York City and Cambridge, Massachusetts.

John A. Ragosta is the Joseph and Robert Cornell Memorial Foundation Senior Historian at the Robert H. Smith International Center for Jefferson Studies at Monticello and has taught law and history at the University of Virginia, Hamilton College, Oberlin College, and others.