Mighty Odds (Prebound)
*USPS shipping is taking up to 2-3 weeks instead of 2-7 days, please consider contactless Parking Lot Pickup if you are in the area.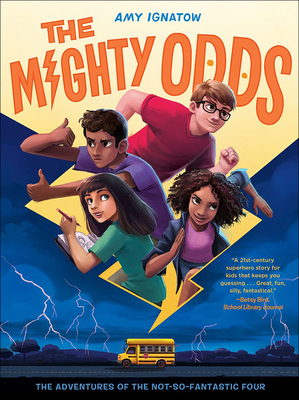 List Price: $19.80
Our Price: $17.82
(Save: $1.98 10%)
Backordered - Unable to Order at this Time
Description
---
What do you get when you mix a sci-fi nerd, a cartoonist, a social outcast, and the most popular girl in school with a mysterious bus crash? Some very specific--and mighty odd--superpowers. Martina can change her eye color; Nick can teleport four inches to the left; Farshad can develop super strength, but only in his thumbs; and Cookie can read minds, when those minds are thinking about directions. Starring a diverse group of kids, this series' multiple narrators make for a quirky, contemporary read that tackles identity and stereotypes. Praised widely, Ignatow's characters have been called "very real" by the New York Times and "completely convincing" by the New Yorker.