The Shape of the River: Long-Term Consequences of Considering Race in College and University Admissions (Paperback)
We are available Monday to Saturday 10:00 a.m. to 5:00 p.m. for Limited Browsing, Order Pickup, Phone Orders, and Contactless Parking Lot Pickup. Order online 24 hours a day.
**Free Local Area Delivery on Tuesday and Friday**
Please Note: Many of the high demand books that say 'On our Shelves Now' are on hold for other customers. You can place an order and we will let you know when they come back in stock. Thank you for your patience.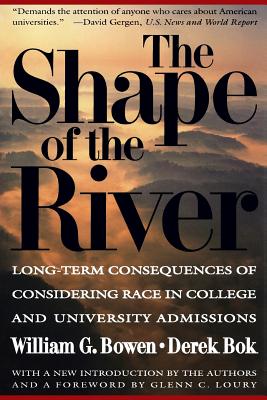 Other Books in Series
This is book number 33 in the William G. Bowen Memorial Series in Higher Education series.
Description
---
The landmark New York Times bestseller that demonstrates the benefits of race-conscious admissions in higher education
This is the book that has forever changed the debate on affirmative action in America. The Shape of the River is the most far-reaching and comprehensive study of its kind. It brings a wealth of empirical evidence to bear on how race-sensitive admissions policies actually work and clearly defines the effects they have had on over 45,000 students of different races. Its conclusions mark a turning point in national discussions of affirmative action--anything less than factual evidence will no longer suffice in any serious debate of this vital question.
Glenn Loury's new foreword revisits the basic logic behind race-sensitive policies, asserting that since individuals use race to conceptualize themselves, we must be conscious of race as we try to create rules for a just society. Loury underscores the need for confronting opinion with fact so we can better see the distinction between the morality of color-blindness and the morality of racial justice.
-- "Los Angeles Times.
About the Author
---
William G. Bowen (1933-2016) was president emeritus of The Andrew W. Mellon Foundation and Princeton University and founding chairman of ITHAKA.. His many books included The Shape of the River: Long-Term Consequences of Considering Race in College and University Admissions (with Derek Bok) (Princeton). Derek Bok is the 300th Anniversary University Research Professor at Harvard University, where he served as president from 1971 to 1991, and again as interim president from 2006 to 2007.