Mountains: Explore Earth's Majestic Mountain Habitats (World of Wonder) (Hardcover)
We are available Monday to Saturday 10:00 a.m. to 5:00 p.m. for Limited Browsing, Order Pickup, Phone Orders, and Contactless Parking Lot Pickup. Order online 24 hours a day.
**Free Local Area Delivery on Tuesday and Friday**
*USPS shipping is taking up to 2-3 weeks instead of 2-7 days, please consider contactless Parking Lot Pickup if you are in the area.
Please Note: Many of the high demand books that say 'On our Shelves Now' are on hold for other customers. We are hoping that they will be back in stock at the warehouse around the middle of June. Thank you for your patience.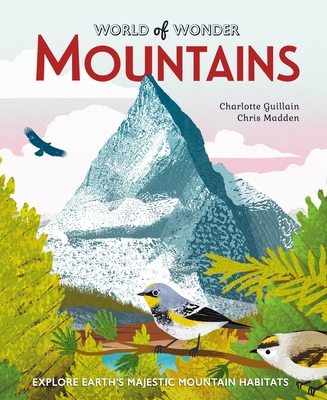 List Price: $18.95
Our Price: $17.06
(Save: $1.90 10%)
Available for Pre-Order Now
Description
---
Take a hike through alpine landscapes and snowy mountain peaks and discover Earth's diverse and delicate ecosystems.
From the mighty Himalayas to the majestic Rockies, this book will take you on an amazing journey. See the different flora and fauna, learn about the diverse range of species, and understand the importance of maintaining these beautiful, natural habitats. This lyrical picture book looks at plants, animals, and land formations in Earth's amazing mountain ecosystems, from the smallest creatures to the largest predators, gently covering the topic of global warming.

The World of Wonder series shines a light on our planet's fragile ecosystems, from majestic mountains, to expansive forests, and deep oceans, gently covering important topics such as global warming and the impact of humans on the natural world.

Also available: World of Wonder: Oceans  978-0-7112-5010-9
About the Author
---
Charlotte Guillain lives in Oxfordshire, UK. She writes fiction and non-fiction for children, including the picture book Spaghetti with the Yeti, which was shortlisted for Oscar's First Book Prize 2014 and has featured in CBeebies Bedtime Stories. The Street Beneath My Feet, Charlotte's first title for words & pictures, was shortlisted for the UKLA Book Awards 2018 and named an ALSC Notable Children's Book 2018 in the All Ages category, as well as being selected by the Guardian as one of 15 'modern classics'.
Chris Madden is an editorial and lifestyle illustrator, born in Salford, UK. Since graduating from Stockport College with a first-class BA honors degree in Design and Visual arts, his illustrations have appeared in many national magazines and newspapers. He is the illustrator of words & pictures titles We Travel So Far and We Build Our Homes.
Praise For…
---
"Just the ticket for budding naturalists."
- Kirkus Reviews