Glow in the Dark: Nature's Light Spectacular: 12 stunning scenes of Earth's greatest shows (Hardcover)
We will be closed on Saturday, July 4th in observance of Independence Day.
We are available Monday to Saturday 10:00 a.m. to 4:00 p.m. for Limited Browsing, Order Pickup, Phone Orders, and Contactless Parking Lot Pickup. Order online 24 hours a day.
**Free Local Area Delivery on Tuesday and Friday**
*USPS shipping is taking up to 2-3 weeks instead of 2-7 days, please consider contactless Parking Lot Pickup if you are in the area.
Please Note: Many of the high demand books that say 'On our Shelves Now' are on hold for other customers. We are hoping that they will be back in stock at the warehouse around the middle of June. Thank you for your patience.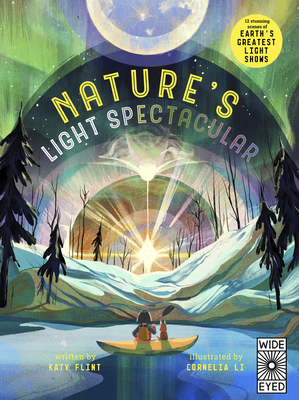 List Price: $20.99
Our Price: $18.89
(Save: $2.10 10%)
Description
---
Lightning! Rainbows! Auroras! Discover Earth's most amazing natural phenomena in this adventure around the globe, including a glow-in-the-dark poster. 
â?¯ 
Follow two intrepid explorers as they witness the Northern Lights, marvel in wonder at glow worm caves, go hunting for double rainbows, and dodge volcanic lightning. A perfect book for young explorers. Turn off the light to see theâ?¯â?¯640 × 296 mmâ?¯ tear-out posterâ?¯glow, featuring the stages of a solar eclipse.â?¯(Be sure to charge it in the light first.) 
â?¯ 
Each spread features an enchanting illustration of a different natural phenomenonâ?¯animated by a description of the science behind it, told in exciting prose.â?¯Fact boxes call out more information.â?¯ 
 
Some of the wonderful things you'll see: 
Volcanic Lightning

Meteor Showers

Double Rainbows

Sun Dogs

Glowworm Caves
Super Blood Moon

Light pillars

Auroras
Poster: Solar eclipse 
About the Author
---
  Cornelia Li is a Chinese born illustrator currently based in Toronto, Canada. Her clients include: New York Times, Chicago Readers, PBS Newshour, Reader's Digest Canada. 
Katy Flint is an author, editor, and musician, based in London. She studied violin at the University of Southampton, before moving into children's books. She is the author of the best-selling sound book The Story Orchestra: The Nutcracker, and has worked on many other non-fiction titles—from human bodies to dinosaurs. 
Praise For…
---
"Sure to generate interest in further learning."
- Ronny Khuri, Booklist
? "A beautiful blend of dazzling artwork and scientific facts"
- Foreword Reviews, Starred Review