Interrupting Chicken (Paperback)
Closed Monday, February 6th for our Annual Inventory.
Monday to Thursday 10AM to 7PM--Friday & Saturday 10AM to 8PM
--Open 11AM to 5PM on Sunday **Order online any time.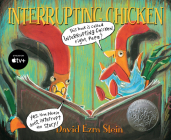 $7.99

Sold Out--Can order from warehouse
Autumn 2010 Kids' Next List
---
"Little Red Chicken simply can't restrain herself when, in the bedtime stories that Papa reads to her, the characters are about to do something she knows they shouldn't do. So she interrupts, and Papa can't ever finish a story, and Little Red Chicken still isn't asleep. It's enough to wear a papa out, so Little Red Chicken offers to read him a story instead. David Ezra Stein's art is electric and energetic, and the story has just the right amount of silliness for kids and parents alike."
— Ellen Richmond, Children's Book Cellar, Waterville, ME
Description
---
"The delivery is Catskill perfect; readers will fall hard for the antics of this hapless pair." — Publishers Weekly (starred review)

It's time for the little red chicken's bedtime story — and a reminder from Papa to try not to interrupt. But the chicken can't help herself! Whether the tale is Hansel and Gretel or Little Red Riding Hood or even Chicken Little, she jumps into the story to save its hapless characters. Now it's the little red chicken's turn to tell a story, but will her yawning papa make it to the end without his own kind of interrupting? The charming 2011 Caldecott Honor Book is available in paperback for the first time.
About the Author
---
Praise For…
---
The delivery is Catskill perfect; readers will fall hard for the antics of this hapless pair.
—Publishers Weekly (starred review)

This is one of the rare titles that will entertain both parent and child.
—School Library Journal

Stein uses page turns dramatically to build tension, which is released each time the chicken interrupts and amends a fairy tale…illustrations are vivid and dramatic. Great fun for reading aloud.
—Booklist