If You Take Away the Otter (Hardcover)
We are available Monday to Saturday 10:00 a.m. to 5:00 p.m. for Limited Browsing, Order Pickup, Phone Orders, and Contactless Parking Lot Pickup. Order online 24 hours a day.
**Free Local Area Delivery on Tuesday and Friday**
*USPS shipping is taking up to 2-3 weeks instead of 2-7 days, please consider contactless Parking Lot Pickup if you are in the area.
Please Note: Many of the high demand books that say 'On our Shelves Now' are on hold for other customers. We are hoping that they will be back in stock at the warehouse around the middle of June. Thank you for your patience.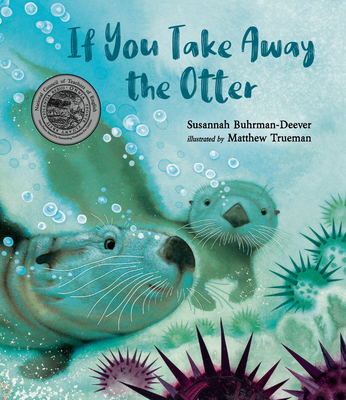 List Price: $16.99
Our Price: $15.29
(Save: $1.70 10%)
Description
---
When the sea otters disappear, why does their kelp forest habitat disappear, too?

On the Pacific Coast of North America, sea otters play, dive, and hunt for sea urchins, crabs, abalone, and fish in the lush kelp forests beneath the waves. But there was a time when people hunted the otters almost to extinction. Without sea otters to eat them, an army of hungry sea urchins grew and destroyed entire kelp forests. Fish and other animals that depended on the kelp were lost, too. But when people protected the sea otters with new laws, their numbers began to recover, and so did the kelp forests. Susannah Buhrman-Deever offers a beautifully written account of a trophic cascade, which happens when the removal of a single element affects an entire habitat. Asides that dig deeper are woven throughout Matthew Trueman's dynamic illustrations, starring a raft of charismatic sea otters. Back matter includes more information about sea otters and kelp forests, including their importance and current status, the effects of the international fur trade on indigenous peoples, and a list of books and websites for readers who wish to continue to explore.
About the Author
---
Susannah Buhrman-Deever, a biologist with a Ph.D. in animal behavior, is the author of Predator and Prey. In addition to her academic work and writing, she has developed inquiry-based ecology curricula for children. Susannah Buhrman-Deever lives with her family in upstate New York.

Matthew Trueman is the illustrator of several books for children, including In the Past by David Elliott, Hippos Are Huge!by Jonathan London, and One Beetle Too Many by Kathryn Lasky. He lives in Phillipsburg, New Jersey.
Praise For…
---
Trueman paints the scene, concentrating on an otter family threatened by formidable harpoons from an abstractly rendered person in a small boat, with a sailing ship in the distance. "People do not always understand at first the changes they cause when they take too much." Sea urchins take over; a page turn reveals a barren landscape. Happily, the story ends well when hunting stops and the otters return…and with them, the kelp forests. A simple but effective look at a keystone species.
—Kirkus Reviews