Frankissstein (Hardcover)
We are available Monday to Saturday 10:00 a.m. to 5:00 p.m. for Limited Browsing, Order Pickup, Phone Orders, and Contactless Parking Lot Pickup. Order online 24 hours a day.
**Free Local Area Delivery on Tuesday and Friday**
Please Note: Many of the high demand books that say 'On our Shelves Now' are on hold for other customers. You can place an order and we will let you know when they come back in stock. Thank you for your patience.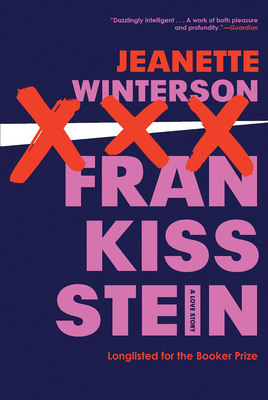 List Price: $27.00
Our Price: $24.30
(Save: $2.70 10%)
Staff Reviews
---
"Winterson uses the story of Frankenstein to expound on the future of sex, gender, AI, and transformation. Starting with the conditions under which Mary Shelley wrote the original Frankenstein and moving into the near-future where Ry is at a tech show featuring what's next in AI (artificial intelligence) and interviewing different people in the industry, including a man who manufactures sexbots. Winterson masterfully weaves her philosophy into a rollicking, good story."
Description
---
Since her astonishing debut at twenty-five with Oranges Are Not the Only Fruit, Jeanette Winterson has achieved worldwide critical and commercial success as "one of the most daring and inventive writers of our time" (Elle). Her new novel, Frankissstein, is an audacious love story that weaves together disparate lives into an exploration of transhumanism, artificial intelligence, and queer love. Lake Geneva, 1816. Nineteen-year-old Mary Shelley is inspired to write a story about a scientist who creates a new life-form. In Brexit Britain, a young transgender doctor called Ry is falling in love with Victor Stein, a celebrated professor leading the public debate around AI and carrying out some experiments of his own in a vast underground network of tunnels. Meanwhile, Ron Lord, just divorced and living with his mom again, is set to make his fortune launching a new generation of sex dolls for lonely men everywhere. Across the Atlantic, in Phoenix, Arizona, a cryogenics facility houses dozens of bodies of men and women who are medically and legally dead... but waiting to return to life. What will happen when homo sapiens is no longer the smartest being on the planet? In fiercely intelligent prose, Jeanette Winterson shows us how much closer we are to that future than we realize. Funny and furious, bold and clear-sighted, Frankissstein is a love story about life itself.
About the Author
---
Jeanette Winterson CBE was born in Manchester, England. After graduating from Oxford University she published her first novel at 25, Oranges Are Not The Only Fruit, to widespread acclaim and a BAFTA for her BBC TV adaption. Twenty-seven years later she revisited that material in the bestselling memoir Why Be Happy When You Could Be Normal? She has written 10 novels for adults, as well as children's books, non-fiction and screenplays. She is Professor of New Writing at the University of Manchester. She believes that art is for everyone and it is her mission to prove it.