Information Wars: How We Lost the Global Battle Against Disinformation and What We Can Do about It (Paperback)
We will be closed on Saturday, July 4th in observance of Independence Day.
We are available Monday to Saturday 10:00 a.m. to 4:00 p.m. for Limited Browsing, Order Pickup, Phone Orders, and Contactless Parking Lot Pickup. Order online 24 hours a day.
**Free Local Area Delivery on Tuesday and Friday**
*USPS shipping is taking up to 2-3 weeks instead of 2-7 days, please consider contactless Parking Lot Pickup if you are in the area.
Please Note: Many of the high demand books that say 'On our Shelves Now' are on hold for other customers. We are hoping that they will be back in stock at the warehouse around the middle of June. Thank you for your patience.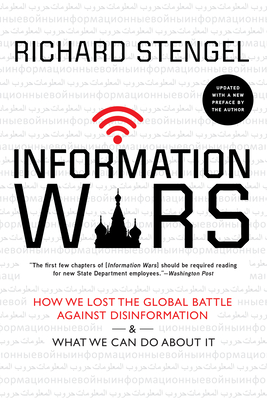 List Price: $18.00
Our Price: $16.20
(Save: $1.80 10%)
Available for Pre-Order Now
About the Author
---
Richard Stengel was the Under Secretary of State for Public Diplomacy and Public Affairs from 2013-2016. Before working at the State Department, he was the Editor of TIME for seven years, from 2006-2013. From 1992 to 1994, he collaborated with Nelson Mandela on the South African leader's autobiography Long Walk to Freedom. Stengel later wrote Mandela's Way, a New York Times best-seller, on his experience working with Mandela. He is the author of several other books, including January Sun, a book about life in a small South African town as well as You're Too Kind: A Brief History of Flattery. He is an NBC/MSNBC analyst and lives in New York.