The Public and Its Problems: An Essay in Political Inquiry (Paperback)
We are available Monday to Saturday 10:00 a.m. to 5:00 p.m. for Limited Browsing, Order Pickup, Phone Orders, and Contactless Parking Lot Pickup. Order online 24 hours a day.
**Free Local Area Delivery on Tuesday and Friday**
Please Note: Many of the high demand books that say 'On our Shelves Now' are on hold for other customers. You can place an order and we will let you know when they come back in stock. Thank you for your patience.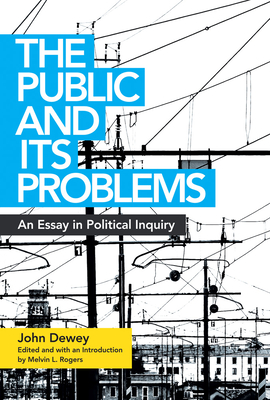 Description
---
More than six decades after John Dewey's death, his political philosophy is undergoing a revival. With renewed interest in pragmatism and its implications for democracy in an age of mass communication, bureaucracy, and ever-increasing social complexities, Dewey's The Public and Its Problems, first published in 1927, remains vital to any discussion of today's political issues.

This edition of The Public and Its Problems, meticulously annotated and interpreted with fresh insight by Melvin L. Rogers, radically updates the previous version published by Swallow Press. Rogers's introduction locates Dewey's work within its philosophical and historical context and explains its key ideas for a contemporary readership. Biographical information and a detailed bibliography round out this definitive edition, which will be essential to students and scholars both.
About the Author
---
John Dewey (1859–1952) was one of the United States' most influential political philosophers, defenders of democracy, and social and educational reformers. His many works encompass psychology, educational theory, and philosophy.
Melvin L. Rogers is the Scott Waugh Chair in the Division of the Social Sciences and associate professor of political science and African American studies at the University of California, Los Angeles. Rogers is the author of The Undiscovered Dewey: Religion, Morality, and the Ethos of Democracy.
Praise For…
---
"The definitive edition of John Dewey's most enduring work on politics. Melvin Rogers has performed the admirable task of crafting a beautifully lucid introduction and an exhaustive annotation of the text. Students and scholars of Dewey will be in Rogers's debt for many years to come."—Ian Shapiro, Yale University
"The introduction and annotations are sophisticated, illuminating, elegant, and accessible. Masterfully situating Dewey in his historical context, Rogers persuasively shows that The Public and Its Problems remains a radically democratic book. This is the best edition available of Dewey's most important political philosophical work."—Jack Turner, University of Washington, author of Awakening to Race: Individualism and Social Consciousness in America