Creance; or, Comest Thou Cosmic Nazarite: Poems (Drinking Gourd Chapbook Poetry Prize) (Paperback)
We are available Monday to Saturday 10:00 a.m. to 5:00 p.m. for Limited Browsing, Order Pickup, Phone Orders, and Contactless Parking Lot Pickup. Order online 24 hours a day.
**Free Local Area Delivery on Tuesday and Friday**
Please Note: Many of the high demand books that say 'On our Shelves Now' are on hold for other customers. You can place an order and we will let you know when they come back in stock. Thank you for your patience.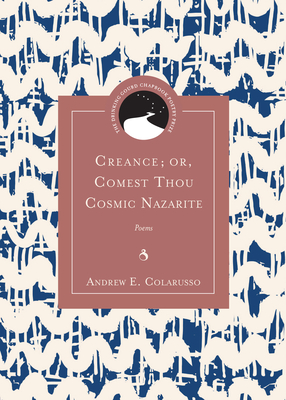 Description
---
In Creance; or, Comest Thou Cosmic Nazarite, Andrew Colarusso hybridizes lost and unknown spaces, taking his title from a falconry term for the cord used to restrain a bird. The word derives from the late fifteenth century, from the French créance ("faith"), also denoting a cord to retain a bird of peu de créance ("of little faith," i.e., which cannot yet be relied upon). Poems of personal narrative and metaphorical depth speak for the voices searching—in a world that lashes out or looks right past what remains tethered to the past—the parts that occupy the whispers of wanting, the dreams of finally being seen.
About the Author
---
ANDREW E. COLARUSSO is the author of the novel The Sovereign. He was the editor in chief of The Broome Street Review from 2009 to 2017.