Nile Valley Contributions to Civilization: Exploding the Myths (Paperback)
We are requiring masks if you are unvaccinated.
We will still be wearing masks in consideration of others. Thank you!
Expanded Hours as of 9/7/21:
Monday to Thursday 10:00 a.m. to 7:00 p.m.
Friday & Saturday 10:00 a.m. to 8:00 p.m.
--And Sunday from 12:00 p.m. to 6:00 p.m.
**Order online any time.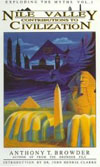 $25.00

Sold Out--Can order from warehouse
Description
---
From the introduction of this book, you get the idea that Anthony Browder is very influence by the work done by John G. Jackson, John Henrik Clarke, and Yosef ben-Jochannan. These three men have done some of the most profound research and writing on early African history and the Nile Valley contribution to civilization. The writings of these men contain a lot of scholarship, which to many people may be very difficult to read and understand. This is why this book is so important. Anthony Browder took what Jackson, Clarke, and Jochannan wrote about in their books and translated it so that the average person could read and understand it. The theme of this book is centered on early Africa, early Africa's stolen legacy and early Africa's contributions to civilization. It also puts an emphasis on how those early contributions was translated into today's American society.