On My Own (Hardcover)
We will be closed on Saturday, July 4th in observance of Independence Day.
We are available Monday to Saturday 10:00 a.m. to 4:00 p.m. for Limited Browsing, Order Pickup, Phone Orders, and Contactless Parking Lot Pickup. Order online 24 hours a day.
**Free Local Area Delivery on Tuesday and Friday**
*USPS shipping is taking up to 2-3 weeks instead of 2-7 days, please consider contactless Parking Lot Pickup if you are in the area.
Please Note: Many of the high demand books that say 'On our Shelves Now' are on hold for other customers. We are hoping that they will be back in stock at the warehouse around the middle of June. Thank you for your patience.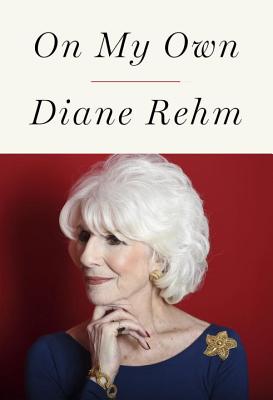 List Price: $23.95
Our Price: $21.56
(Save: $2.40 10%)
Sold Out--Can order from warehouse
Staff Reviews
---
"NPR host Diane Rehm's memoir  On My Own bravely deals with the difficulties she faced once her husband of fifty four years died in 2013. Rehm resists white washing their often challenging marriage while surveying what connected them--their children and times cooking, gardening and walking. Their wrenching decision to place John in an assisted living facility once his Parkinson's disease made home care too challenging and then their shared frustration that John could not choose his manner and timing of his death have ironically given Rehm a new focus once she retires. Once John is gone, Rehm must make sense of her old life and construct a new one.  She does this by talking with dear friends who share how they negotiate widowhood and  by remaining committed to the familiar and comforting routine of work. Her writing is most intimate and inspiring when she reveals her own guilt, loneliness and sadness. The reader joins Rehm as she grieves but also witnesses Rehm's imagining a new and different existence."
Description
---
In a deeply personal and moving book, the beloved NPR radio host speaks out about the long drawn-out death (from Parkinson's) of her husband of fifty-four years, and of her struggle to reconstruct her life without him.

With John gone, Diane was indeed "on her own," coping with the inevitable practical issues and, more important, with the profoundly emotional ones. What to do, how to react, reaching out again into the world—struggling to create a new reality for herself while clinging to memories of the past. Her focus is on her own roller-coaster experiences, but she has also solicited the moving stories of such recently widowed friends as Roger Mudd and Susan Stamberg, which work to expose the reader to a remarkable range of reactions to the death of a spouse.

John's unnecessarily extended death—he begged to be helped to die—culminated in his taking matters into his own hands, simply refusing to take water, food, and medication. His heroic actions spurred Diane into becoming a kind of poster person for the "right to die" movement that is all too slowly taking shape in our country. With the brave determination that has characterized her whole life, she is finding a meaningful new way to contribute to the world.

Her book—as practical as it is inspiring—will be a help and a comfort to the recently bereaved, and a beacon of hope about the possibilities that remain to us as we deal with our own approaching mortality.
About the Author
---
DIANE REHM has hosted The Diane Rehm Show on WAMU 88.5 FM in Washington, D.C.—distributed by NPR—since 1979; the show has a weekly listening audience of two and a half million. Currently, it is broadcast on nearly two hundred stations and Sirius Satellite Radio across the country, as well as internationally by Armed Forces Radio Network. She lives in Washington, D.C.

www.thedianerehmshow.org
Praise For…
---
Praise for Diane Rehm's
ON MY OWN
 
"Important…poignant"
—Miami Herald

"A deeply felt and thoughtfully written account...Rehm writes candidly about her husband's decision to die when Parkinson's disease had deprived him of the ability to 'in any way care for himself on his own'...Clear, moving and completely honest…Diane Rehm has again found her voice, and, as she has always done, she speaks passionately and courageously about issues that concern us all."
—Reeve Lindberg, Washington Post

"Rehm walks readers through the most recent year of her life, struggling with living alone and figuring out a new identity."
—Philadelphia Inquirer

"About her late husband's battle with Parkinson's disease and how she rebuilt her life without him after 54 years of marriage. She writes about the practical challenges, emotional pain and her involvement in the right-to-die movement."
—Leonard Lopate, WNYC
Coverage from NPR