Wolf Hollow (Hardcover)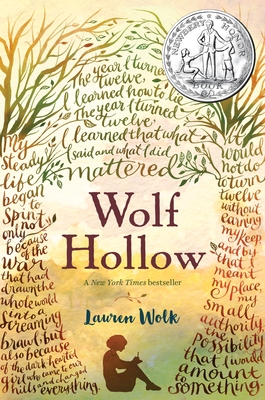 List Price: $17.99
Our Price: $16.19
(Save: $1.80 10%)
Staff Reviews
---
"Set against the backdrop of rural Pennsylvania, the story of Wolf Hollow could really have taken place in any country town in the USA during the 1940s. Over seas, World War II rages on, but in this small farm community the bombing couldn't seem farther away. Eleven year old Annabelle suddenly has her hands full when a terrible accident occurs outside the schoolhouse one afternoon. It's a mystery that needs solving and she's sure that the new bully in town, Betty, has everything to do with it. But how is she connected to Toby, the silent WWI vet living in a shack in the woods? And will the truth change what happened to poor Ruth?"--Reviewed by Emily
— From
Emily Recommends
An historical coming-of-age story of Annabell, a precocious twelve year old who may remind you a bit of Scout. With her quiet sense of decency, Annabell is at the center of this compelling book that examines bullies and bigotry. A "hauntingly" original story good for middle grade boys and girls-I would definitely consider this a keeper! This is Lauren Wolk's first book for young adults and hopefully the first of many.
— From
Robin Recommends
Description
---
A Newbery Honor Book
New York Times Bestseller

A young girl's kindness, compassion, and honesty overcome bullying in 1940s America. 

Growing up in the shadows cast by two world wars, Annabelle has lived a mostly quiet, steady life in her small Pennsylvania town. Until the day new student Betty Glengarry walks into her class. Betty quickly reveals herself to be cruel and manipulative, and while her bullying seems isolated at first, things quickly escalate, and reclusive World War I veteran Toby becomes a target of her attacks. While others have always seen Toby's strangeness, Annabelle knows only kindness. She will soon need to find the courage to stand as a lone voice of justice as tensions mount.

Brilliantly crafted, Wolf Hollow is a haunting tale of America at a crossroads and a time when one girl's resilience, strength, and compassion help to illuminate the darkest corners of history.

Praise for Wolf Hollow:

"Wolf Hollow has stayed with me long after I closed the book. It has the feel of an instant classic." —Linda Sue Park, Newbery Medalist and New York Times bestselling author of A Long Walk to Water

"This book matters." —Sara Pennypacker, New York Times bestselling author of Pax




About the Author
---
Lauren Wolk is an award-winning poet and author. She is the bestselling author of two novels for young readers, Newbery Honor–winning Wolf Hollow (2016) and Beyond the Bright Sea (2017). She was born in Baltimore and has since lived in California, Rhode Island, Minnesota, Canada, and Ohio. She now lives with her family on Cape Cod.
Praise For…
---
★ An NPR Best Book of the Year
★ A Booklist Best Book of the Year
★ An Entertainment Weekly Best Middle Grade Book of the Year
★ A Kirkus Reviews Best Book of the Year
★ A Shelf Awareness Best Book of the Year
★ A School Library Journal Best Book of the Year
★ A Wall Street Journal Best Children's Book of the Year
★ An ALA Notable Children's Book 

"This exquisite debut confronts injustice and doesn't flinch." – People Magazine

"Not all books with literary aspirations told from a child's point of view are created equal. But when reviewers draw a parallel between Mockingbird and Lauren Wolk's Wolf Hollow, they are being neither hyperbolic, nor lazy. They are merely doing justice to Wolk's beautiful story."—NPR, "Best Books of 2016"

"Drawing comparisons to To Kill a Mockingbird, Wolk's lovely novel features a quiet young girl named Annabelle who is stirred to action by a cruel new student Betty when Betty starts bullying a strange (but, as Annabelle knows, kind) World War I veteran named Toby."—Entertainment Weekly, "Best Middle Grade Books of 2016"

"[A] powerful debut…beautifully written."—The Wall Street Journal

"Wrenching and true…With a precociously perceptive girl as a main character; a damaged, misunderstood recluse; and themes of prejudice and bigotry, comparisons to Harper Lee's 'To Kill a Mockingbird' will abound. But Wolk gives us her own story—one full of grace and stark, brutal beauty."—New York Times Book Review

★ "Echoing the tone and themes found in To Kill a Mockingbird…Annabelle's astute observations of the Philadelphia woods and the people who populate Wolf Hollow  will resonate with many readers as they present a profound view of a complex era tinged by prejudice and fear."—Publishers Weekly, starred review

★ "The spare but hauntingly beautiful language paints every early morning walk to school, household chore, emotion, and rational and irrational thought in exquisite detail…  Perfectly pitched to be used in classrooms in conjunction with To Kill a Mockingbird."—Booklist, starred review

★ "[Wolk] realizes her setting with gorgeous immediacy, introducing the culture of this all-white world of hollows, hills, and neighbors with confidence and clear-eyed affection. Trusting its readers implicitly with its moral complexity, Wolk's novel stuns."—Kirkus Reviews, starred review

★ "The tension builds and never lets up. The storytelling here is dignified and the tone is memoir-ish, because Annabelle is remembering the story in the past…The portrait of Betty, an unredeemed sociopath, pulls no punches, and Toby is a nuanced and poignant character, an unlikely hero."—The Horn Book, starred review

★ "The narrative is powerful, complex, and lifelike…Thematically, this book raises some of the same issues as To Kill a Mockingbird, but with social status rather than racism as the basis for injustice…VERDICT: Highly recommended for purchase; a truly moving debut."—School Library Journal, starred review

★ "Lauren Wolk's nuanced and nerve-wracking middle-grade debut takes a close, dark look at how dangerous it is to make assumptions of guilt or innocence based on appearances—and how telling the truth and standing up against injustice are essential, even if the wrongs are not always righted…Wolk has a clean and poetic way with words and her story is finely crafted, haunting and unlikely to be forgotten."—Shelf Awareness, starred review

"Marvelous…A powerful middle-grade tale of friendship, and courage. You know that sense of finishing a book and immediately wishing for someone to talk to about it? That's how I felt about this stunning new middle-grade novel. Lauren Wolk also writes poetry, and here she fastens words together lyrically to create images and characters that not only float off the page, they tear your heart out… Anabelle's courage and heart will make it a perfect read aloud also. "Wolf Hollow" is just that wonderful." —The Christian Science Monitor

"Wolk is a writer of uncommon power, and this is an uncommonly clear-eyed look at both the depths and heights of the human spirit. A book meant to be discussed and pondered. Grade: A+"—Cleveland Plain Dealer

"Annabelle is an earnest, independent and caring character, well supported by a vividly drawn cast—the kind, the cruel and the gossips in between…Coming-of-age novels specialize in moral dilemmas but rarely as well."—San Francisco Chronicle

"A compelling coming-of-age story…This is a novel for our times and a book that matters."—San Diego Union-Tribune

"Things aren't at all simple in Wolf Hollow, and that's the great strength of Lauren Wolk's first novel for middle school readers…Wolf Hollow is fascinating and fast-paced, driven by Wolk's exquisite plotting and thoughtful, fine-tuned writing. Reminiscent of To Kill a Mockingbird, this isn't a book full of happy endings; instead, it gives young readers a ringside seat at real-life moral complexities."—BookPage

"Must not be missed…A sweeping, profound book on the deep courage it takes to be a compassionate human, Wolf Hollow will stay with readers long after the last page is read, and in all probability, long into adulthood."—Books to Borrow, Books to Buy

"Superb…beautifully written…A compelling story [that] will have readers—young and old alike— thinking about it a long time after the final page has been turned."—Examiner

"Wolk's elegantly told tale is voiced in the past tense by narrator Annabelle, living in rural Pennsylvania in 1943, and opens with the sentence, 'The year I turned twelve, I learned how to lie.' Wolk explores the many paths those words open onto with a story that charts a course through bigotry, prejudice, kindness and coming of age with a struggle between right and wrong. "—Cape Cod Times

"An emotionally intense YA debut from author and poet Lauren Wolk that will get kids thinking about compassion, justice, the importance of speaking out, and how to judge someone's character…The novel reinforces the idea that to be happy with yourself you have to fight for what's right and do what you can to help whenever you can."—Common Sense Media

"This is the story of the residual effects of war, the harmfulness of bullying, and several different types of prejudices. Annabelle makes an admirable character, as she's smart, honest and caring, but also flawed and therefore humanized. The plot, in which I had initial trepidations due to the subject matter, turned out to be a much different tale than I'd realized and the protagonist and her family a lovely set of personalities. This book will appeal to readers young and old looking for a mid-20th century setting."—Historical Novels Review

"Deeply compelling and beautifully written…Originally author Lauren Wolk wrote this as a novel for adults. When it was adapted into a book for kids she didn't dumb it down or change the language in a significant manner…There will be people who compare it to To Kill a Mockingbird but to my mind it bears more in common with The Crucible. So much of the book examines how we judge as a society and how that judgment can grow out of hand…A book unafraid to be uneasy."—School Library Journal's Fuse #8 Production (blog)

"Brings the reader into a beautifully described world that shows the dark side of humanity as well as the angelic side."—Provincetown Banner

"This book is nuanced with complex adult characters and their motivations alongside the pre-teen protagonist and her classmates and younger siblings. Simply put, it's moving for an adult to read with multiple deaths, the trauma of military service during wartime, loneliness, and the impact of lies and deception. For an elementary school student, it's a lesson in bullying, sticking by your family, and friendship… Wolk's lyrical language compliments the Pennsylvania town circa 1945 navigating audiences through life after two world wars."—Albany Times-Union
"Lauren Wolk's Wolf Hollow is nominally a book for young people, but its prose is so exquisite, its story so reminiscent of other great works of historical fiction, 'To Kill a Mockingbird' in particular, that I can recommend it primarily and for adults... 'Wolf Hollow' is not a comfortable book; the story is sometimes brutal. But it is a powerful, memorable story of love, and of the courage needed to defend it."—Utah Daily Herald

"A riveting read…that will keep readers on the edge of their seats. There are abundant lessons in Wolf Hollow, about judging others, about dealing with those who treat you badly, and forgiving at all costs. A period book with an admirable protagonist – 'Wolf Hollow' is an addictive read from first page to last."—The Missourian

"Give this one to children with a passion for justice or an enthusiasm for historical fiction."—Roanoke Times, gift guide