Saving American Beach: The Biography of African American Environmentalist MaVynee Betsch (Hardcover)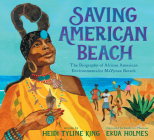 Description
---
This heartfelt picture book biography illustrated by the Caldecott Honoree Ekua Holmes, tells the story of MaVynee Betsch, an African American opera singer turned environmentalist and the legacy she preserved.

MaVynee loved going to the beach. But in the days of Jim Crow, she couldn't just go to any beach--most of the beaches in Jacksonville were for whites only. Knowing something must be done, her grandfather bought a beach that African American families could enjoy without being reminded they were second class citizens; he called it American Beach. Artists like Zora Neale Hurston and Ray Charles vacationed on its sunny shores. It's here that MaVynee was first inspired to sing, propelling her to later become a widely acclaimed opera singer who routinely performed on an international stage. But her first love would always be American Beach.

After the Civil Rights Act desegregated public places, there was no longer a need for a place like American Beach and it slowly fell into disrepair. MaVynee remembered the importance of American Beach to her family and so many others, so determined to preserve this integral piece of American history, she began her second act as an activist and conservationist, ultimately saving the place that had always felt most like home
About the Author
---
Heidi Tyline King has written many books for adults, but this is her first book for children.

Ekua Holmes has lived and worked in Boston her entire life. She began her picture book career in 2015, illustrating Voice of Freedom: Fanny Lou Hamer, which was awarded a Caldecott Honor and the Coretta Scott King John Steptoe New Talent Award. She was awarded back-to-back Coretta Scott King Illustration Medals for Out of Wonder in 2017 and The Stuff of Stars in 2018. Her books have achieved numerous medals, honors, and international acclaim.
Praise For…
---
Praise for Saving American Beach:

★ "Holmes' stunning, intricately composed paint-and-collage images bring MaVynee to life in full color . . making each spread visually rich, realistic, and fascinating. King's storytelling, Holmes' artwork, and informative backmatter portray MaVynee Betsch as the larger-than-life Black environmentalist she was. A spectacular story about a little-known eco-warrior whose story should be told and retold. —Kirkus Reviews, starred review
 
★ "King crafts musical prose, skillfully connecting Betsch's musical career with her love of the beach. Caldecott Honoree Holmes's art, rendered in acrylic and collage, incorporates patterns created from handmade stencils and stamps, resulting in richly multilayered illustrations. A moving portrayal of a little-known preservationist." —Publishers Weekly, starred review

★ "What a treat to read this beautiful picture book! . . . Holmes' artistry enhances the wonder of the beach, MaVynee's environmental crusade, and the historical significance of the story. This book provides an inspirational view into a rare piece of Floridian and African American history. . . A welcome addition to any elementary school library." —School Library Connection, starred review

★ "This lushly illustrated picture-book biography tells the story of MaVynee Betsch, an opera-singing African American environmentalist and activist . . . Holmes' vibrant, multilayered collages aptly evoke the ocean and shifting sands, and are especially effective in capturing MaVynee's determined stance, her brilliant outfits, and her seven-foot-long tresses. . . This story of a wealthy, sophisticated, talented, and larger-than-life activist deserves a wide audience." —Booklist, starred review

★ "In this inspirational picture book . . . King's engaging text gracefully pairs with Coretta Scott King Illustrator Award Winner and Caldecott Honoree Ekua Holmes's acrylic and collage illustrations. Holmes captures MaVynee as a caretaker and advocate, and her use of bright colors and handmade stamps elevate MaVynee's special way of paying homage to her beach: adorning her seven-foot-long mane with colorful seashells and pins. . . Alluring." —Shelf Awareness, starred review
New Spring Hours!! Monday to Saturday 10:00 a.m. to 7:00 p.m.
--New Sunday Hours: 12:00 p.m. to 6:00 p.m.
We are here for limited in-store browsing and contactless parking lot pickup.
**Order online any time.