Crush and Color: Keanu Reeves: Colorful Fantasies with a Mysterious Hero (Paperback)
We will be closed on Saturday, July 4th in observance of Independence Day.
We are available Monday to Saturday 10:00 a.m. to 4:00 p.m. for Limited Browsing, Order Pickup, Phone Orders, and Contactless Parking Lot Pickup. Order online 24 hours a day.
**Free Local Area Delivery on Tuesday and Friday**
*USPS shipping is taking up to 2-3 weeks instead of 2-7 days, please consider contactless Parking Lot Pickup if you are in the area.
Please Note: Many of the high demand books that say 'On our Shelves Now' are on hold for other customers. We are hoping that they will be back in stock at the warehouse around the middle of June. Thank you for your patience.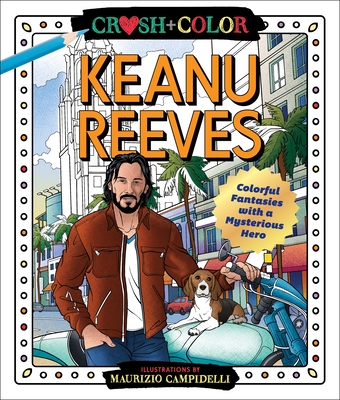 List Price: $13.99
Our Price: $12.59
(Save: $1.40 10%)
Description
---
Let Keanu Reeves melt your heart. Crush and Color: Keanu Reeves is the fantasy coloring book you have been waiting for. Inside you will find a collection of daydreams and alluring scenarios with Hollywood's brooding sweetheart. Let your imagination run wild with the mystery, benevolence, and quiet magnetism of Keanu in more than 35 completely unique, lifelike drawings. Admire him as he revs his engine on a winding coastline, immerse yourself in his dreamy gaze across a dinner table, and get swept up in his good-natured endeavors. Reality is a thing of the past in this dreamy book of fantasies with a charming enigma in Crush and Color: Keanu Reeves.

- Let Keanu set you off in this collection of infatuating illustrations
- Perforated pages make it easy to display the object of your romance or bromance
- Find romance, intrigue, and smoldering gazes in 35 hand-drawn reveries
About the Author
---
MAURIZIO CAMPIDELLI grew up reading comic books, and it was the amazing adventures, humor, and fantasy found in those pages that eventually inspired his illustration style. Maurizio now works as an illustrator in Rimini, Italy, and he can be found on the beach, running, or biking on the boardwalk in his free time.