The Four Winds: A Novel (CD-Audio)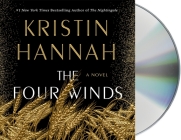 $44.99
Sold Out--Can order from warehouse
February 2021 Indie Next List
---
"A brilliantly woven narrative set during the Dust Bowl years on the High Plains of Texas, The Four Winds is a story of survival that inspires us to persist. Hannah extensively researched the devastation of this climatic and agricultural phenomenon and its toll on communities, which seamlessly informs the deftly woven narrative of the life of Elsa, a woman who finds that she has more tenacity and resourcefulness than she had been raised to believe — and then some."
— Claudia Maceo, The Twig Book Shop, San Antonio, TX
Description
---
#1 NEW YORK TIMES BESTSELLER
#1 USA TODAY BESTSELLER
#1 WALL STREET JOURNAL BESTSELLER
#1 INDIE BESTSELLER

"The Four Winds seems eerily prescient in 2021 . . . Its message is galvanizing and hopeful: We are a nation of scrappy survivors. We've been in dire straits before; we will be again. Hold your people close."—The New York Times

"A spectacular tour de force that shines a spotlight on the indispensable but often overlooked role of Greatest Generation women."—People

"Through one woman's survival during the harsh and haunting Dust Bowl, master storyteller, Kristin Hannah, reminds us that the human heart and our Earth are as tough, yet as fragile, as a change in the wind." —Delia Owens, author of Where the Crawdads Sing

From the number-one bestselling author of The Nightingale and The Great Alone comes a powerful American epic about love and heroism and hope, set during the Great Depression, a time when the country was in crisis and at war with itself, when millions were out of work and even the land seemed to have turned against them.

"My land tells its story if you listen. The story of our family."

Texas, 1921. A time of abundance. The Great War is over, the bounty of the land is plentiful, and America is on the brink of a new and optimistic era. But for Elsa Wolcott, deemed too old to marry in a time when marriage is a woman's only option, the future seems bleak. Until the night she meets Rafe Martinelli and decides to change the direction of her life. With her reputation in ruin, there is only one respectable choice: marriage to a man she barely knows.

By 1934, the world has changed; millions are out of work and drought has devastated the Great Plains. Farmers are fighting to keep their land and their livelihoods as crops fail and water dries up and the earth cracks open. Dust storms roll relentlessly across the plains. Everything on the Martinelli farm is dying, including Elsa's tenuous marriage; each day is a desperate battle against nature and a fight to keep her children alive.

In this uncertain and perilous time, Elsa—like so many of her neighbors—must make an agonizing choice: fight for the land she loves or leave it behind and go west, to California, in search of a better life for her family.

The Four Winds is a rich, sweeping novel that stunningly brings to life the Great Depression and the people who lived through it—the harsh realities that divided us as a nation and the enduring battle between the haves and the have-nots. A testament to hope, resilience, and the strength of the human spirit to survive adversity, The Four Winds is an indelible portrait of America and the American dream, as seen through the eyes of one indomitable woman whose courage and sacrifice will come to define a generation.

A Macmillan Audio production from St. Martin's Press

"Julia Whelan is herself a master storyteller because it's absolute magic how she brings this novel to life for listeners. Her emotional rendering will bring tears and laughter and she portrays every character perfectly, men women and children...Have the tissues close when you put those earbuds in." -- Reading Franzy

"With forceful narrative drive, Whelan delivers a compelling performance of Hannah's memorable new novel." -- AudioFile Magazine
About the Author
---
KRISTIN HANNAH is the #1 New York Times bestselling author of more than twenty novels, including The Nightingale, The Great Alone, and The Four Winds. A former lawyer turned writer, she lives with her husband in the Pacific Northwest.
New Spring Hours!! Monday to Saturday 10:00 a.m. to 7:00 p.m.
--New Sunday Hours: 12:00 p.m. to 6:00 p.m.
We are here for limited in-store browsing and contactless parking lot pickup.
**Order online any time.